By Shannon Bohle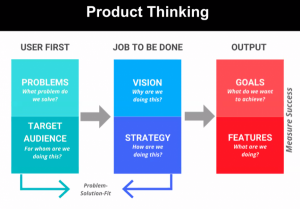 The steps involved in product thinking (click to enlarge). Credit: Session organizers.
Are you struggling to please your writing clients and failing to get repeat business? If so, product and design thinking may help your business boom.
A poll at the outset of the session "Product Thinking and Design Thinking for Science Writers" at ScienceWriters2021 concluded 34% of responding attendees had never heard these terms, while 57% knew the terms but not how to apply them. To make them work for you, it's vital to define them and place them in context.
Product Thinking asks the science writer to define a problem, to quantify and qualify how your product can help solve that problem and fit this solution into the broader goals and objectives of the content provider (who pays the writer) as well as the audience.
Lisa M. P. Munoz, founder of SciComm Services, Inc. (@lisampmunoz), puts it this way: "Product thinking is something I do every day. It's my very first task when taking on a new client." She first determines their goals, who her audience is, what her audience's goals are, their product, and what they want to accomplish with that product.
"There's just an endless quantity of good ideas," said Kate Travis, session moderator and digital director at Science News (@Kate_Travis). "But you can't do everything." So, prioritizing through Product Thinking is a necessity.
Design Thinking involves project management, encouraging the science writer to implement a workflow that traces the path through all stages of development. It emphasizes periodic testing, feedback, and revision throughout the process to ensure clients' needs and expectations are met.
Product and design thinking work in tandem to establish a clear line of communication between science writer and client. That is why being on the same page at a project's outset is essential. While metrics, along with solid reporting and spectacular writing, are how a typical writer defines success, sometimes the writer's and client's goals don't coincide.
"Not everything goes according to plan," Munoz said. One former client was unhappy because her video series failed to create high profile coverage in specific outlets he had in mind. But he never shared this goal with her. That's why it is important to ask the client early and often, 'What does success mean to you?'
Periodic checks and balances throughout the design process help ensure a writer will stay on track and create loyal clientele and long-lived business relationships. According to Travis, a feedback cycle following the framework "research, design, test, iterate" is a great way to stay focused on a client's needs.
Amanda Yarnell, director of editorial product and audience engagement at C&EN (@amandayarnell), who regularly uses reader surveys and rapid prototyping, advised writers to think carefully before taking a job and ask what resources you are going to need—not just at the beginning, but for the long-term.
At the end of the session, attendees participated in a hands-on activity, splitting into 36 small groups. One group simulated a small immunology nonprofit organization, where the problem was to raise money to promote thought leadership about COVID-19 with a starting budget of $5k/month. The group needed to select one idea (either newsletter, social media, op-eds, videos, or podcasts), then use design thinking to plan their initial steps. Another group simulated a science writer working in a university's marine biology lab doing an end-of-year fundraiser to attract annual donors. Again, a few ideas were put forward (like a brochure, social media activity, website, or virtual events), and the group was instructed to plan the project's initial steps.
To read about the other 34 case examples, download the session's toolkit and breakout slides.
Hero image by Gino Crescoli from Pixabay.