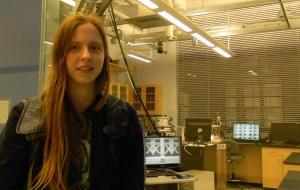 Diana Crow
Dozens of awards recognize science writers who author books, tackle in-depth pieces, and pen beautifully crafted features. Few recognize the art of sharing complex science succinctly for short "front-of-book" stories and news briefs.
In 2016, Diana Crow, started 'The Best Shortform Science Writing Project' (SciShortform), a roundup of excellent short science writing pieces in a variety of genres. Curated by an all-volunteer team of writers and scientists, the list is published quarterly on Medium.
"These roundups are a fun celebration of the science writing community, but they also serve as a valuable resource for early career science writers seeking examples and inspiration. Inclusion can also boost up-and-coming writers' professional visibility," said Crow, a freelance science writer based in Rhode Island.
Crow said interest in SciShortform has been growing, with the initiative drawing almost 300 nominations per quarter in 2018. Dozens of NASW members participate by submitting nominations, reading and sharing the roundup, and serving as judges.
This year, SciShortform got a boost from a $2,200 Peggy Girshman Idea Grant from NASW. Crow, together with digital strategist Anne Berlin, will improve the site's sustainability with a brand refresh and a targeted outreach campaign. They will also recruit a core group of committed volunteers and start publishing Medium posts on the craft of short science writing.
"Conversations about craft already happen behind-the-scenes at SciShortform, but we want to open those discussions up to the broader community. Our interviews with editors will focus on specific outlets' approaches to covering science news and will explore the ingredients needed for excellent short science writing," Crow said.
Crow said NASW members can nominate stories by tagging @SciShortform on Twitter with a link to the story.
Peggy Girshman Idea Grants support projects and programs that help science writers in their professional lives and/or advance the field of science writing. The grants range from $1,000 to $25,000 with selection of successful proposals by NASW's Grants Committee. Crow's proposal is one of three funded in 2019.