By Ana Flores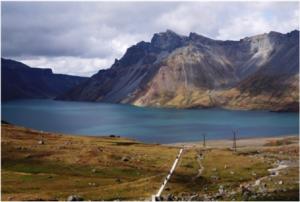 A science writer and western scientists visited a lake at the summit of Mt. Paektu in 2011 to examine damage from an eruption over 1,000 years earlier. Credit: Richard Stone
WASHINGTON — Fears of an eruption of the tallest mountain in the Korean Peninsula may have brought North Korea out of isolation and into the scientific global community. At the 2019 American Association for the Advancement of Science annual meeting, three panelists gathered on Feb. 16 to discuss efforts by western and South Korean scientists to collaborate with North Korean scientists.
"Science has no boundaries and is not political, so we think that science is the best starting point for building the trust between two countries," said Sun Hwa Hahn, a researcher at the National Research Council of Science & Technology, in Sejong, South Korea.
The Korean War began in 1950. Though fighting ended in 1953, North and South Korea have yet to sign a peace treaty.
"We have had no chance of communication between South and North Korea during these 70 years," said Hong-Jin Yang, a historical astronomer at Korea Astronomy and Space Science Institute in Daejeon, South Korea.
Western researchers found a way into North Korea after a series of microtremors rattled the Korean Peninsula between 2002 and 2006. The tremors centered around Mount Paektu, a volcano that is a national emblem for North Korea.
Paektu erupted in A.D. 946 in a spectacular display. Richard Stone, senior editor at Howard Hughes Medical Institute's Tangled Bank Studios, described the eruption's results: Ash fell as far away as Japan and permanently changed the environment. Paektu has had several smaller eruptions since then.
In the 2000s, tens of thousands of small earthquakes took place. North Korean and American scientists wanted to investigate, fearful that the volcano would erupt again.
"[The tremors] indicated to the scientists that magma was rising toward the surface," Stone said. Magma is a hot semifluid material below the Earth's crust that becomes lava when it erupts on the Earth's surface or, when it cools, becomes igneous rock.
In 2011, the Pyongyang International Information Center of New Technology and Economy invited Stone and western scientists to North Korea. This nonprofit nongovernmental organization facilitates international cooperation between institutions in science, technology and renewable energy.
North Korean scientists have a small research center at Mount Paektu's summit, where they welcomed the visiting scientists. Together, they installed seismometers that can detect a wide range of frequencies, so that even slight tremors are recorded. Scientists then used the speed of those seismic waves to map the magma chambers below Mount Paektu in hopes of predicting future eruptions.
The next step will be to involve Chinese scientists, who are already studying the volcano, Stone said. Mount Paektu sits on the China-North Korea border. Collaboration with China will primarily involve data sharing. That wouold give scientists a more defined map of the magma chambers beneath the volcano.
Yang is part of another cooperative effort at Mount Paektu, this one between North and South Korea in astronomy research. The plan is to construct a collaborative observatory on the mountain's summit.
Mount Paektu will serve as "the first astronomical observatory of one Korea," Yang said.
This will not be an easy task.
North Korean government officials have made it difficult for the country's scientists to work with scientists outside the country, Hahn said. Still, Yang has invited North Korean astronomers to the 2021 International Astronomical Union General Assembly in Busan, South Korea, in hopes that they will be allowed to attend.
Restrictions on scientific collaboration come from South Korea, too.
"Some political parties are very favorable to North Korea, but some are not, so we cannot decide whether we could [make] contact with North Korea or not," Hahn said. "I think this is one of the hardest [obstacles] to collaborating with North Korea."
Although North Korea's isolation has been a hurdle in developing relationships among scientists, efforts in astronomy and geology have made leaps in the past 15 years.
"America and North Korea are technically still at war and there is a lot of anti-American propaganda in Korea," Stone said. "It takes a lot of effort to build trust. It takes time."
Ana Flores is a senior at St. Edward's University, majoring in biology with a minor in journalism. She is a writer for her school newspaper, Hilltop Views, and contributor to Environmental Quality Operations, a biotech company in Austin, Texas. Contact her on Twitter @flores2321 or via email at aflores.af151@gmail.com.