Story by Daniel Erenstein
Photography by Laura Castañón and Zoe Grueskin
Few cities in the world have the recording arts woven into their cultural tapestry quite like Memphis, Tenn., hallowed "home of blues, soul, and rock n' roll." Its iconic studios, notably Sun Records and Stax Records, gave rise to the meteoric journeys of Elvis Presley, Otis Redding, B.B. King, and Johnny Cash, titans of their respective musical genres.
This city — "raised by sound," as its freeform community radio station proudly proclaims — indeed made a fitting locale for a conversation about the impact of storytelling in sound at the annual ScienceWriters2022 annual meeting. On Oct. 23, science writers convened to glean insights from a seasoned panel of audio professionals at the "Pump Up the Podcast: Adding Audio to Your Newsroom or Workflow" (#SciWriPodcasts) session.
Led by Sarah Webb, associate science media editor at the Krell Institute, and Stephen Ornes, host of the Calculated podcast and writer-in-residence in the Vanderbilt University Communication of Science and Technology program, this professional development session gathered five accomplished podcasters — Ginger Campbell, Jim Dryden, Thimali Kodikara, Lindsay Patterson, and Zakiya Whatley — to share stories from their varied careers as podcast producers and hosts.
After the panelists each introduced themselves and their podcasts, Webb, who hosts the computational science podcast Science in Parallel, posed the most fundamental of questions for anyone interested in audio production: Why choose this dynamic, yet intimidating, medium to communicate the stories you want to tell?
For starters, the panelists said audio storytelling offers a certain closeness to the story and its protagonists — one that is more challenging to achieve through traditional print journalism.
"There's this weird thing about the intimacy of podcasting," said Campbell, who has produced and hosted Brain Science for 16 years. "I love interviewing scientists and letting their passion come through. That's the best part."
"We were able to make people sound human," said Dryden, who began producing Show Me the Science with his team at Washington University School of Medicine in St. Louis to highlight the research and patient care of university scientists and physicians during the COVID-19 pandemic.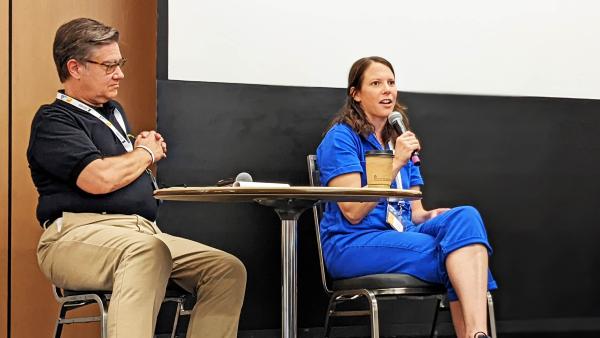 Jim Dryden (left) and Lindsay Patterson on stage during the SciWriPodcasts session at ScienceWriters2022. (Laura Castañón for NASW)
Other panelists draw their podcasting inspiration from the unique opportunities that audio holds for engagement and community building.
Recognizing a societal need for improved scientific literacy, Patterson co-founded Tumble Media — and its flagship podcasts Tumble: A Science Podcast for Kids and Tumble en Español — with a mission to prepare children to be thoughtful, informed contributors to decision making around science. But when Patterson first created the podcast, she was unsure if audio storytelling could capture attention in an era of iPad apps and games. In the end, it was a gamble that paid off.
"Kids aren't just casual listeners of podcasts." Patterson said. "They're deeply, deeply engaged, because kids love to listen to the same stories over and over again."
And the communal experience of listening — shared by children and their families — allows Patterson to spark broader discussions about the role of science in society, which Kodikara agreed makes podcasting an effective conduit for complex, nuanced conversations.
Kodikara co-hosts Mothers of Invention, a podcast that features feminist solutions to the climate crisis with emphasis on the work of Black, Brown, and Indigenous women and girls around the world, with former President of Ireland Mary Robinson and New York-based comedian Maeve Higgins.
In her work as the podcast's creative impact producer, Kodikara has found that the reporting of explicit scientific findings — and the doom-and-gloom that largely characterize print and television coverage of the climate crisis — interest only a small fraction of the much broader audience that Kodikara would like to reach. Audiences are most captivated by stories that allow for "visualizing what happens next." And, fortunately, audio is a medium that allows for authentic infusions of storytelling, humor, and inclusive participation — such as the pandemic soundscapes sent in by Mothers of Invention's listeners, which the team included in the show.
For these reasons, "pods especially will continue to be where messy conversations can continue to be had," Kodikara said.
The second half of the session established space for more focused breakout discussions on various aspects of podcasting and audio reportage.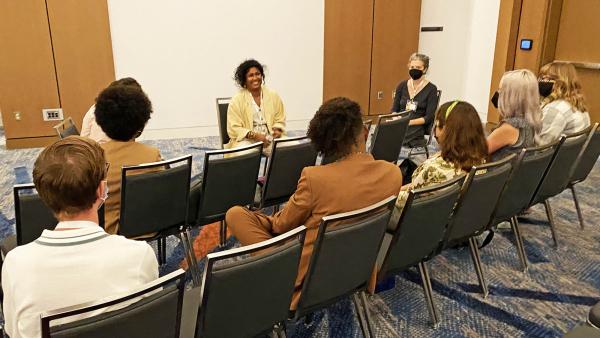 Thimali Kodikara speaks to a breakout discussion group during the SciWriPodcasts session at ScienceWriters2022. (Zoe Grueskin for NASW)
Leading a breakout group on finding and honing your unique voice, Whatley offered her take as co-host of Dope Labs, which features spirited conversations with her real-life best friend, Titi Shodiya, about trending science stories.
Together, Whatley and Shodiya wanted listeners "to understand that you can have friendships in science" and "people can bond over science," so they landed on an effervescent tone for the show that expresses the "essence" of their friendship.
"One of our premises is that science is for everybody. You're part of this crew." Whatley said. "We wanted people who have historically been excluded from the scientific narrative to feel front and center."
Building these types of relationships with your listeners and guests requires sustained efforts over time, Kodikara told her breakout group on podcasting for social impact and community building. But that's the nature of the work on a podcast like Mothers of Invention, Kodikara explained.
Meanwhile, Patterson provided advice for her group on finding and building an audience. To understand and to grow your audience, it's important to examine the languages, cultures, and motivations of your listeners, and "how the medium can work in their lives."
"Listen to a lot of podcasts like yours, and study their engagement," Patterson noted in a series of tweets reflecting on the session. "Make a pilot and do a focus group. Run a listener survey once you have a few episodes," Patterson wrote. "Evolve your podcast format for their needs."
"You can get really good feedback from your audience," Campbell said earlier. "And if you listen to it, your show can become better and better."
The panelists also encouraged the assembled science communicators to consider adaptability and sustainability in their podcast-planning endeavors. Whatley related that episode formats and team arrangements depend primarily on your goals, rather than any immutable laws of podcasting. Campbell praised the value of finding your niche, which is "more likely to be successful than a broad science show."
"You only need 'you' and a microphone if you really want to do it. Even if you aspire to be Radiolab someday, you don't have to start there," Campbell said. "That's why so many people got into podcasting."
Patterson reminded attendees to be cognizant of burnout. Ultimately, making a podcast is a labor of love, so set your expectations accordingly, and savor your audio-making voyage to the fullest.
"As long as you have something that you know is sustainable at a baseline level, you can at least keep it going," she said. "So that you can let the podcast live and evolve to where you want it to be."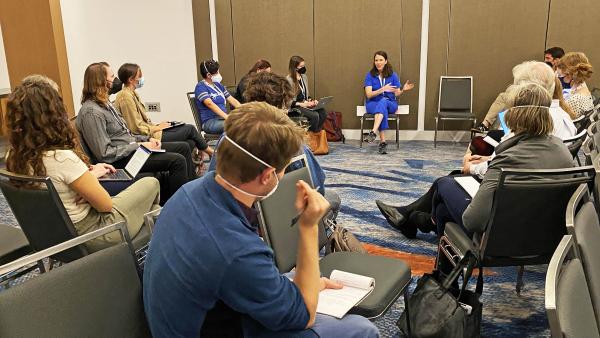 Lindsay Patterson speaks to a breakout discussion circle during the SciWriPodcasts session at ScienceWriters2022. (Zoe Grueskin for NASW)
---
Daniel Erenstein (@SciCommDaniel) is a science communications consultant, writer, and educator from the San Francisco Bay Area, who writes for the Department of Biochemistry and Molecular Medicine at UC Davis Health. He currently serves as the vice president of Capital Science Communicators, an association of science writers and communicators serving California's capital region with resources and networks for professional development. Daniel's work has been published in UC Davis Prized Writing, The Aggie Transcript, The California Aggie, and the NASW newsroom.
This ScienceWriters2022 conference coverage article was produced as part of the NASW Conference Support Grant awarded to Erenstein, Castañón, and Grueskin to attend the ScienceWriters2022 national conference. Find more 2022 conference coverage at www.nasw.org
A co-production of the National Association of Science Writers (NASW), the Council for the Advancement of Science Writing (CASW), and St. Jude Children's Research Hospital, the ScienceWriters2022 national conference featured an online portion Oct. 12-19, followed by an in-person portion held in Memphis, Tenn. Oct. 21-25. Learn more at www.sciencewriters2022.org and follow the conversation on Twitter at #SciWri22
Credits: Reporting by Daniel Erenstein; edited by Ben Young Landis. Photography by Laura Castañón and Zoe Grueskin; edited by Ben Young Landis