Story by Andrea Tamayo
At the ScienceWriters2023 annual conference in Boulder, panelists shared their experiences reporting on Indigenous communities, and offer advice on telling stories ethically and building relationships respectfully in the NASW plenary "Reporting on Indigenous Communities" (#IndigenousReporting). NASW members and freelance journalists Katharine Gammon and Rebecca Boyle were the plenary organizers.
The panelists were Joseph Lee, a freelance science writer; and Chip Colwell, editor-in-chief of SAPIENS magazine. Zachary Zorich, a freelance science writer and contributing editor at Archaeology magazine, moderated the session. He asked panelists how reporters can better include the perspectives of Indigenous people in stories, and cover issues facing Indigenous communities.
Cultivating connections with communities
Zorich started by asking the panelists how they build rapport with Indigenous communities.
Lee, a citizen of the Wampanoag Tribe of Gay Head (Aquinnah), began reporting on Indigenous communities out of curiosity to know more about his Tribe. After interviewing family members and elders, he wondered how their experiences related to that of other Tribal communities.
"The way that I approach reporting on Indigenous communities and issues, is from this place of, like, I just want to learn more," Lee said. "The more I look at it as starting a relationship or starting to learn about an issue, the better it is."
Lee, who used to cover land and human rights' stories of the Maasai people in Tanzania, would take extra time to build those remote relationships. He would talk to everyone he could over WhatsApp, and ask each person who he should talk to next.
To report on Indigenous communities, Lee recommends conducting interviews and research to first understand context and build relationships. It might not end up in a story, but the extra reporting will help, he said.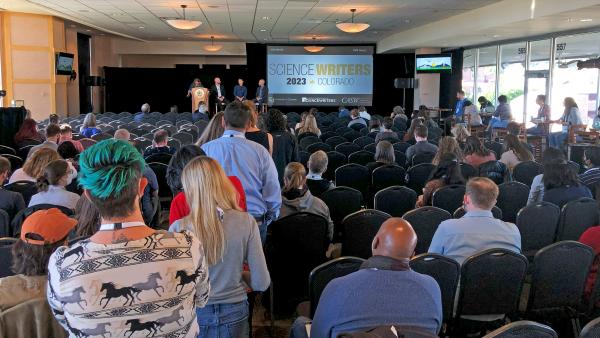 Attendees line up during question and answer time at the Reporting on Indigenous Communities NASW plenary session at ScienceWriters2023. (Ben Young Landis/NASW)
Questions to ask
When reporting on an Indigenous community for the first time, Lee recommends asking three questions:
1. Where do you recommend I look for resources to learn more?
"It allows you to learn more without putting the responsibility on the person you're talking to," Lee said. "There is probably a resource out there, you just have to ask which one they think is credible or trustworthy."
2. What are some of the misconceptions about your community that you want people to know about?
3. What do you think the story here is?
"Oftentimes, by doing that, you hear about the story that nobody else knows about, because you've taken the time to get to know people and ask those questions, rather than being the fifth person to call them that day to ask about the thing that was the big headline." Lee said.
Avoiding extractive storytelling
Before Zorich asked the panelists how reporters should avoid extractive storytelling, he advised asking oneself: Who does this story serve? Is this story perpetuating anything harmful?
"As journalists, we should be clear with people about our methods, our intentions, and purposes in the stories we're wanting to serve," Zorich said.
And sometimes, there is no benefit to a certain community, Lee said. It's important to recognize and communicate that, too.
Colwell emphasized the importance of reflecting values of Indigenous communities while reporting. SAPIENS, for example, has policies that say when, where and how pictures of human remains can be used because many Native communities find the depictions of ancestral remains deeply offensive and a spiritual violation.
"We know if a Native person comes and read this story, that it's going to be accessible to them, and reflect their values, and how they see their history, heritage and ancestors." said Colwell.
During the Q&A portion concluding the plenary, a member of the audience asked the panelists for advice on how to maintain respectful relationships with communities after stories are published. Lee recommended asking communities, "What does a productive and mutually beneficial long-term relationship look like to you?" And Colwell advised journalists to be honest with communities about how realistic those long-term relationships may be. "The only thing worse than not being able to maintain it, is probably indicating or suggesting the possibility that the relationship is going to continue," said Colwell.
Colwell noted two takeaways from the discussion. One, is that science writers should understand that Native communities have a long and complicated history that needs to be acknowledged and incorporated into storytelling. And two, is that reporters should be open, transparent and honest about the nature of a relationship, and what a reporter can or can't do.
Resources discussed in the session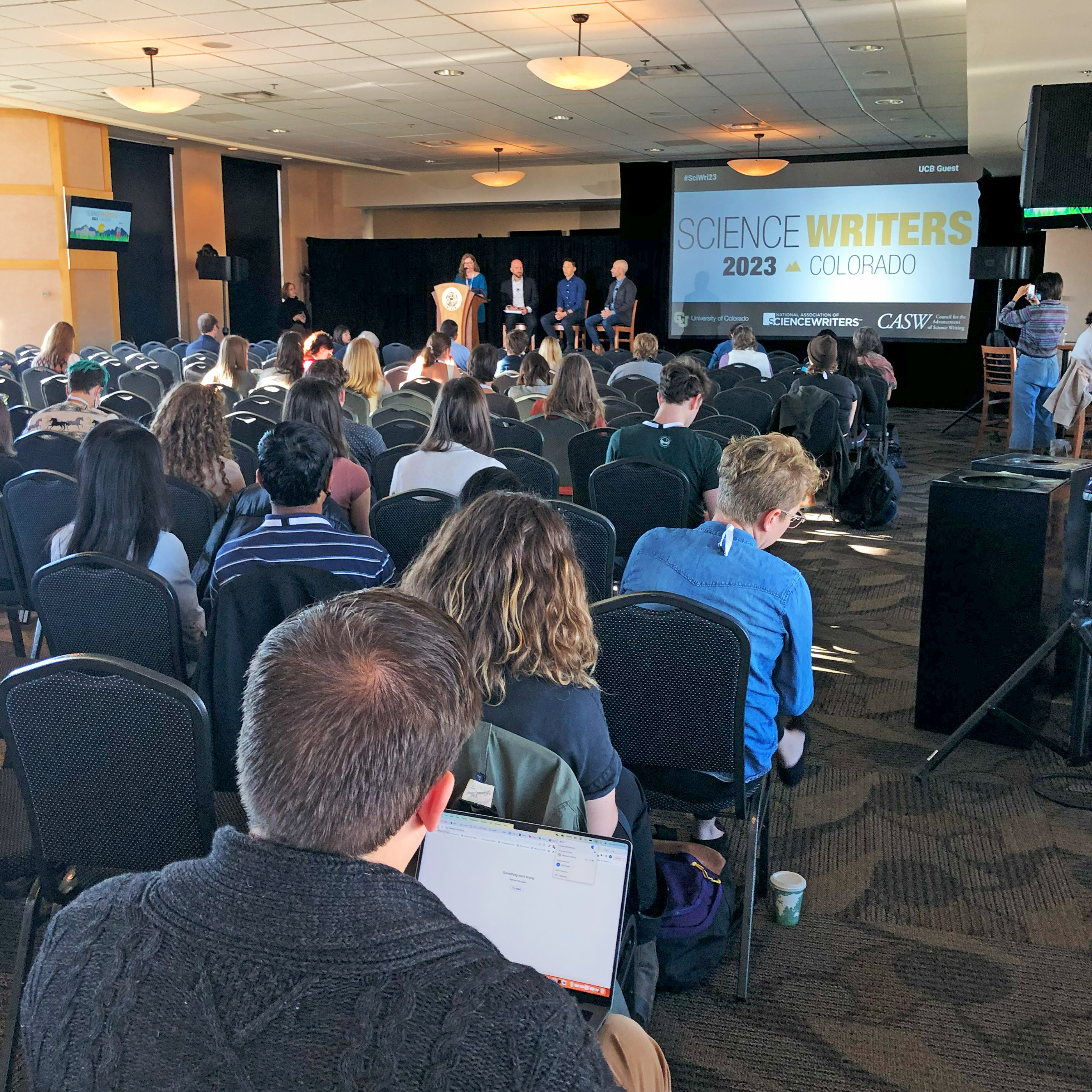 Attendees listen to plenary co-organizer Rebecca Boyle introduce the Reporting on Indigenous Communities panelists at ScienceWriters2023 in Boulder. (Ben Young Landis/NASW)
---
Andrea Tamayo (@andreaxtamayo) is a student in the Science Communication Master's program at the University of California, Santa Cruz. She was a 2023 AAAS Mass Media Fellow at the News and Observer and is a current intern at Stanford Medicine.
This ScienceWriters2023 conference coverage article was produced as part of the NASW Conference Support Grant awarded to Tamayo to attend the ScienceWriters2023 national conference. Find more 2023 conference coverage at www.nasw.org
A co-production of the National Association of Science Writers (NASW), the Council for the Advancement of Science Writing (CASW), University of Colorado Boulder, and the University of Colorado Anschutz Medical Campus, the ScienceWriters2023 national conference featured an online portion Sept. 26-Oct. 3, followed by an in-person portion held in Boulder and Anschutz, Colo., Oct. 6-10. Learn more at www.sciencewriters2023.org and follow the conversation on social media at #SciWri23
In recognition of Indigenous Peoples' Day and the important conversations and actions that this day asks for, ScienceWriters2023 presented five different events centered around Indigenous community issues. Two NASW plenaries explored the intersection of journalism and Indigenous issues, one of which was co-organized by the Indigenous Journalists Association. Other events included a community listening session hosted by the CU Centers for American Indian and Alaska Native Health, along with CASW science sessions on Arctic knowledge and Colorado River water rights. The Dairy Arts Center in Boulder also hosted two screenings of the documentary film Bad Press to coincide with the conference.
Whether in Colorado, around the United States, or around the world, science writers in particular have a responsibility to educate themselves on the erasure of Indigenous cultures, knowledge, and rights by settlers, colonizers, and outsiders. NASW encourages all to better explore, understand, and amplify Indigenous perspectives through our duties as writers, journalists, and communicators at the intersection of science and society.
Credits: Reporting by Andrea Tamayo; edited by Ben Young Landis.