By Czerne Reid and Ashley Yeager
Neurobiology major Sarah Zhang knew plenty of Harvard schoolmates who wanted to be scientists and plenty who wanted to be journalists, but none who wanted to combine the two fields.
That changed when she received a 2011 NASW Travel Fellowship to attend the American Association for the Advancement of Science (AAAS) annual meeting.
There she found her tribe.
"(It) was the first time I met people with the same unusual combination of interests as me," said Zhang, now a staff writer at the Atlantic. "It helps a lot when you're starting out to know that you're not alone."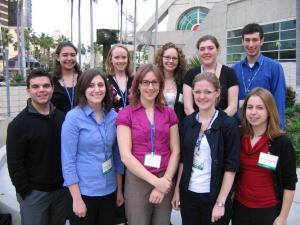 NASW 2010 Travel Fellows (Jeff Grabmeier photo)
The NASW Travel Fellowship to AAAS is one of three signature programs of the NASW Education Committee (together with the NASW Mentoring Program and NASW Internship Fair). The fellow experience includes specialized training and guidance on how to cover a meeting and how to report and structure stories, and several rounds of one-on-one editing by NASW volunteers. These stories are published on the NASW website (archive of fellows' stories at goo.gl/p4Wrmb).
"It's rewarding to consider that we may have provided a first national publication for many or most of these folks, along with extensive ties to people in the NASW community," said Rob Irion, past co-chair of the education committee and director emeritus of the UC Santa Cruz Science Communication Program. "They see up close how the field works, how collegial it is, how readily one can establish a support network, and how dozens of conversations can lead to just the right opportunities."
"Planned serendipity" is what Irion and Jeff Grabmeier, senior director of research communications at the Ohio State University, like to call the confluence of exposure, access, and new-found experience.
Over the years, the fellowships have provided transformative opportunities for diverse student science writers from the United States, Puerto Rico, Canada, and Mexico.
"It really helped to jumpstart my science-writing career," said 2014 Travel Fellow Laurel Hamers, now a staff writer at Science News and a member of the NASW Education Committee.
NASW Travel Fellows have gone on to prestigious internships, staff writer positions, and freelance work at a variety of noted publications, universities, and other institutions both in the U.S. and abroad. Their bylines appear in outlets such as the New York Times, WIRED, Science, Nature, Science News, and NPR. Others, like 2014 Fellow Emily Maier, now an epidemiologist, have gone on to graduate programs and careers in science, medicine, business, and policy with new appreciation for the value of science communication.
"I haven't stopped writing or communicating about science," said Maier, who has worked in Tbilisi, Georgia, for the CDC and in Geneva for the WHO.
"My CDC positions required communication skills and the ability to translate complicated knowledge into quick, digestible pieces," she said. "Without a doubt, my experiences as a science writer taught me skills and techniques not used in the field of public health, even in areas utilizing risk communications."
For most fellows, covering the AAAS meeting proved challenging but the most rewarding.
"The experience was as exhilarating as it was intimidating," said 2015 Travel Fellow Marissa Shieh, then a student at Williams College. "I loved watching the verbal fisticuffs over SETI that happened at one session … probably as much as I hated my confusion about the vaccine session I chosen to write about. But my feelings changed on the flight back to school. I took a quick skim of the news before takeoff and saw that Jonathan Amos of BBC had covered the same session on vaccines! At that moment, I caught the writing bug."
Shieh was later awarded her school's Jeffrey Owen Jones Journalism Fellowship, which she used for graduate studies at the NYU Science, Health and Environmental Reporting Program.
The NASW Travel Fellowship program started in 2007 when then-education committee co-chairs Grabmeier and John Travis collaborated with AAAS' Ginger Pinholster and Earl Lane to secure a grant from the AAAS William T. Golden Endowment Fund for Program Innovation. After two years, NASW took over funding the fellowships.
"These travel fellowships are some of the best investments NASW makes," said NASW president Laura Helmuth, health, science, and environment editor at the Washington Post.
The return on investment is solid.
"The fellowship provides a wonderful opportunity to meet other early career writers at a formative stage, when you can help each other figure out what kind of writer, editor, producer, host, whatever they want to be," said Lizzie Wade, a contributing correspondent for Science, who has served as an editor and mentor for travel fellows. "Once you become those people, you'll probably be able to assign each other stories."
Consider 2011 fellows Sarah Zhang and Nick Stockton. Zhang later worked for Stockton at WIRED.
"I'd like to think (the fellowship connection) helped me get the job," she said.
For Nicholas St. Fleur, then a Cornell student, a 2013 fellowship helped him make a critical decision about the UC Santa Cruz Science Communication program.
"I met so many SciCom alums at AAAS … and I noticed how many were at the top of their fields, covering the types of science that I hope to one day cover," St. Fleur said. "By attending AAAS as an NASW Travel Fellowship recipient I made my first steps toward doing what I hope to do for the rest of my life, and for that I am thankful."
St. Fleur completed the UC Santa Cruz program and is now a staff science writer at the New York Times.
Apply now for the 2018 NASW Travel Fellowship to AAAS. The deadline to apply is Dec. 15, 2017.
Czerne Reid and Ashley Yeager are co-chairs of the NASW Education Committee.
(NASW members can read the rest of the Summer 2017 ScienceWriters by logging into the members area.) Free sample issue. How to join NASW.