By Eva Frederick
On Jan. 13, nearly 100 science communicators packed into Huston-Tillotson University's science building, in Austin, Tex., for the first-ever SciComm South Conference; an afternoon of networking, learning, and fun.
Hailing mostly from Texas, attendees performed science-based improv, discussed techniques for pitching stories, and formed new connections with colleagues from the region.
"The whole day felt like a conversation that had been needing to happen," said Juli Berwald, Austin-based science writer and conference organizer.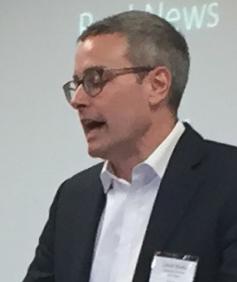 Keynote speaker David Biello
Berwald crystallized the idea for the conference at the annual NASW meeting in San Antonio in 2016, after it had been kicking around in the back of her head for a while. She had seen how science writers in the Bay Area met regularly, and writers on the East Coast had large regional groups in hub cities such as D.C. and New York City. But the middle states, though certainly rich in science communicators, had no equivalent.
"Each of us knows a group of people, but there was no real clear network where all these people get together and do events and get to know each other," said Marc Airhart, a PIO at the University of Texas at Austin, and conference co-organizer.
At the San Antonio meeting, Berwald and Airhart attended an information session on how to win a Peggy Girshman Idea Grant from NASW. Berwald applied, was successful, and the grant kicked off the first SciComm South Regional Conference.
Berwald recruited local science communicators, including freelancers Melissa Gaskill and Viviane Callier, and science outreach trainer/practitioner Nichole Bennett, who put together an invitation list, booked venues, scheduled speakers, and recruited sponsors.
"We thought we would be doing well if we got 50 people, and we ended with almost 100," said Airhart. "We are definitely pumped that there are that many people who want to get together and do things like this."
It wasn't just the number of attendees that surprised the organizers, but their range of interests and experience.
"We had people from PIOs to freelancers … people who are just dabbling, people from the book publishing world, and people who had published in National Geographic and Buzzfeed, and all over the place," said Berwald. "It was really cool and encouraging to see the wide diversity of people who were interested."
The day began with a networking luncheon with food from the Texas Chili Queens, a local food truck owned and operated by drag queens.
David Biello, science curator for TED and author of The Unnatural World: The Race to Remake Civilization in Earth's Newest Age, kicked off the presentations with a keynote talk on getting things right and telling stories that make people feel something. Laughs erupted at his anecdote of a scientist who made imitation whale poop.
One point that resonated from Biello's talk was the idea that to truly help the audience connect with the science, writers need to know the story behind why researchers pursue it.
"Generally we don't get into the broader themes of the research; we just talk about the project and its findings," said Matt McGowan, a PIO at the University of Arkansas. "We don't talk about the breadth of their career or why they're doing this work, or even the personal reasons like why they got into this [field]."
After the keynote, breakout sessions were held on topics such as unconventional science communication, book publishing, and freelance pitching.
A coffee break, sponsored by Texas A&M University Press, satisfied attendees' need for snacking and socializing.
"I really loved looking out over the coffee break and seeing so many people engaged with each other," said Berwald. "I felt this amazing energy."
The close-to-home networking was also one of McGowan's favorite parts of the event. While he enjoys meeting fellow science writers at larger conferences such as AAAS or NASW, the proximity of the people he met at SciComm South was a big plus.
"It's nice just generally to have a regional focus for no reason other than it's easier if it's smaller," said McGowan. "I liked the conference a lot for that reason. It just felt more relaxed, more intimate, and more manageable that way."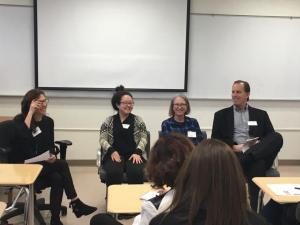 Book panel (l to r): Author Juli Berwald (moderator); Stacy Eisenstark, Texas A&M University Press; author Melissa Gaskill; Jim Hornfischer, Hornfischer Literary Management
The final breakout session presented a tough choice between riotous improvisation and a weighty discussion on environmental reporting. In the former, STEMprov workshop leader Nichole Bennett, wearing her passion for science in the form of a galaxy-printed dress, led the audience in games designed to make participants think about communicating science more creatively. In the latter, panelists Kiah Collier with the Texas Tribune, Brendan Gibbons of the Rivard Report, and Asher Price from the Austin-American Statesman talked shop about the challenges and techniques of reporting on the environment, and the importance of this beat in places like Texas, fraught with concerns over oil and politics. Summaries from the sessions are archived at scicommsouth.org.
Attendees wrapped up the day at a party at conference sponsor Art.Science.Gallery, a venue displaying the beauty and visual complexity of science.
Socializing, snacking on tacos, and drinking beer and wine provided by sponsors Serendipity Wines and Red's Porch, people tapped their feet to a playlist of "science songs" suggested by guests upon registration. When the party was over, attendees lingered to chat before heading back home recharged and excited about their jobs.
Looking ahead, Berwald and Airhart hope SciComm South can continue to host conferences long into the future. Right now, organizers are working on strengthening the Texas scicomm groups and brainstorming ideas for the next get-together.
"It feels like we are at the beginning of something, and we can look back a few years from now and say, 'Wow, that became a real community of science communicators,'" said Airhart. "I'm really optimistic about the future."
Eva Frederick is a senior journalism/biology major at the University of Texas at Austin.
(NASW members can read the rest of the Spring 2018 ScienceWriters by logging into the members area.) Free sample issue. How to join NASW.