The countdown has begun for the 10th World Conference of Science Journalists, in San Francisco (Oct. 26 to 30). Read on for new program additions and the latest updates. Time is running out to register. Subscribe for updates and the news at wcsj2017.org.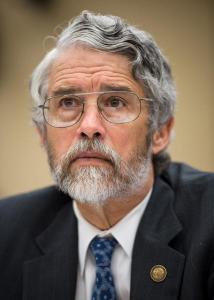 John P. Holdren NASA HQ photo via Flickr/Creative Commons
John P. Holdren keynote announced
John Holdren, an authority on climate-change science and policy who served two terms as President Obama's science advisor, will deliver a plenary address on opening day titled "Why the Wafflers are Wrong: Addressing Climate Change is Urgent — And a Bargain." Currently, Holdren is the Teresa and John Heinz Professor of Environmental Policy at the Kennedy School of Government and professor of environmental science and policy in the Department of Earth and Planetary Sciences at Harvard. He is also co-director of the Science, Technology, and Public Policy Program at the Harvard Kennedy School Belfer Center for Science and International Affairs. Holdren was one of the first winners of a MacArthur Foundation Prize Fellowship and is a former president of the AAAS.
New Horizons highlights
CASW's New Horizons in Science program will have a new dimension at WCSJ2017, mixing science presentations with panels on issues and research organized by U.S. and international science writers. New Horizons sessions will examine the challenges and opportunities of covering research on lab animals; what global research is revealing about the state of the oceans; the underreported but breathtaking findings of Argentinian paleontologists working at the southern tip of their continent; how climate change is driving large and small-scale economic inequality; what's next in global astronomy; and radical new ideas about immunity and how to attack cancer. Other sessions will challenge assumptions about applying innovation to attack poverty in the developing world, look at how billionaire philanthropists are driving the science agenda, examine how technology is radically changing the nature of work, and look at the search for extraterrestrial intelligence 20 years after the movie Contact.
Jack F. Ealy Science Journalism Workshop
The 2017 edition of the Jack F. Ealy Science Journalism Workshop will bring together 50 science journalists for a one-day professional development workshop to present practical, hands-on training sessions to sharpen reporting skills on the most pressing science, health and environmental issues in the Western Hemisphere. The workshop, which has been organized by the Fundación Ealy Ortiz (Mexico) each year since 2004, is designed to promote excellence in science, health, and environmental coverage in the region and to underscore the need for deeply reported science coverage by local and regional media organizations. This year's workshop is organized in collaboration with the nonprofit journalism organization InquireFirst (with support from the Fundación Ealy Ortiz, and the WCSJ2017 Regional Committee on Latin America and the Caribbean.
Student enrichment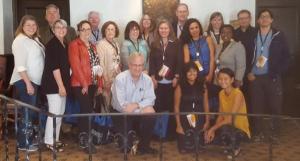 The WCSJ2017 Regional Committee on Latin America and the Caribbean
All students who receive travel fellowships to WCSJ2017 will attend a half-day skills workshop led by Robert Irion, director emeritus of the Science Communication Program at UC Santa Cruz, and independent journalist Diego Graglia, former AP correspondent in Mexico City. Students will be given assignments, report on conference sessions, and work with professional editors to produce articles posted to the WCSJ2017 website. Each fellow will write one news story and file a second report in a format of their choice, such as a video or a Q&A. The 22 students represent 13 nations (see list below).
Global health journalism track
The Association of Health Care Journalists has organized a global health journalism track for the conference featuring these topics:
Tapping databases for scientific evidence on health
The global refugee crisis: Changing health needs
Why social determinants matter in health journalism
The challenges of Covering infectious disease outbreaks
Slow-motion epidemics: The global threat of chronic disease
Reporting with clarity on vaccines and vaccine development
Antibiotic resistance: The next challenges
Awards experience
The traditional ScienceWriters Awards Night will this year be elevated to a multimedia experience at WCSJ2017 honoring the winners of NASW and CASW awards while also celebrating award winners from around the world. It will take place following the conference's opening ceremony on Thursday, Oct. 26. In conjunction with this enhanced celebration, CASW Showcase will present an international exhibition of awardwinning writing.
Let's celebrate!
Celebrate the opening of the conference at an evening gala reception at the California Academy of Sciences, in Golden Gate Park. The California Academy of Sciences is the only place on Earth to house an aquarium, planetarium, and natural history museum all under one living roof. Opening reception is brought to you by conference Diamond Sponsor J&J Innovation.
Celebrate your WCSJ2017 experience and all your new colleagues and friends at the closing reception at The Exploratorium: The Museum of Science, Art, and Human Perception. Founded by physicist and educator Frank Oppenheimer, since opening its doors in 1969, over 1,000 participatory exhibits have been created, approximately 600 of which are on the floor at any given time. Conference organizers are grateful to The Exploratorium for the donation of this exciting venue for this event.
WCSJ2017 travel fellows announced
WCSJ2017 organizers have announced the selection of 73 awardees of professional fellowships and 22 recipients of student fellowships from a total of 48 countries.
The fellowships committee screened 589 applications for general fellowships, submitted from 103 nations. The student fellowship committee reviewed 167 applicants from 63 nations.
"With nearly every region of the world represented," fellowships chair Robin Lloyd said, "we are excited about this remarkably successful effort to hold a global conference."
The grants enable those who otherwise could not attend to join us for the conference by supporting travel to San Francisco, accommodations, and complimentary registration as well as workshop attendance for select fellows.
As an expression of welcome to international colleagues, U.S. science writers donated $40,000 to fund 11 David Perlman Travel Fellowships. WCSJ2017 is also grateful to the William K. Bowes, Jr. Foundation, Fundación Ealy Ortiz, the Rutter Foundation, Research Councils UK, Canada's International Development Research Centre, the American Association for the Advancement of Science/EurekAlert!, Grupo Insud of Argentina, National Association of Science Writers (NASW), Nature, Annual Reviews, Council for the Advancement of Science Writing (CASW), Taylor & Francis, the Waterloo Global Science Initiative, Institut de recherche pour le développement, and Newswise for supporting the travel grants.
This combined support enabled WCSJ2017 organizers to award a total of $277,000 in travel fellowships.
WCSJ2017 PROFESSIONAL FELLOWS
Adam Alqali (African Newspage, Nigeria)
Pakinam Amer (Nature Middle East, Egypt)
Thakur Amgai (Freelance, Nepal)
Diego Arguedas-Ortiz (Semanario Universidad, Costa Rica)
Kossi Elom Balao (Togo Matin, Togo)
Florencia Ballarino (Perfil, Argentina)
Christopher Bendana (Vision, Uganda)
Eduardo Fernando Franco Berton (Freelance and Environmental Information Network, Bolivia)
Alexandra Borissova (Rhine-Waal University, Germany)
Iván Carrillo (Los Observadores/I Cubic Hacklab, Mexico)
Cecilia Fernández Castañon (Scientific and Technological Center of CONICET and National Northeast University, Argentina)
Kemo Cham (Politico SL, Sierra Leone)
Charles Chikapa (Community Radio Initiative-Malawi, Malawi)
Oscar Cusó (El País, Spain)
Jean Armand Bokally Dande (Freelance, Cameroon)
Rasha Dewedar (SciDev.net and Scientific American Arabic, Egypt)
Ofelia Domingo (Philippine Council for Agriculture Aquatic and Natural Resources Research and Development, Philippines)
Michelle Donahue (Freelance, U.S.)
Karen Emslie (Freelance, Scotland)
Carol Francis (Public Broadcasting Corp. of Jamaica, Jamaica)
Barbara Fraser (Freelance, Peru)
William Funk (Freelance, U.S.)
Geoffrey Giller (Freelance, U.S.)
Katti Gray (Freelance, U.S.)
Sarah Hiddleston (Nature, England)
Bernardita Skinner Huerta (Playa Ancha University, Chile)
Chhatra Karki (Nagarik News, Nepal)
Philip Keitany (Standard Media Group, Kenya)
Daniel Keller (Keller Broadcasting, Inc., U.S.)
Samantha Lee (New York magazine, U.S.)
Mariana Léon (El Financiero Bloomberg, Mexico)
David Levin (Freelance, U.S.)
Helen Mendes Lima (Federal University of Paraná, Brazil)
Matías Loewy (Medscape en Español, Argentina)
Shayla Love (Freelance, U.S.)
Caterina Elizondo Lucci (University of Costa Rica, Costa Rica)
Sylivester Domasa Lugutu (Daily News, Tanzania)
Daco Tambikila Lunzitisa (Radio Okapi, Democratic Republic of Congo)
Ryan Mandelbaum (Gizmodo, U.S.)
Aurel Marin (Viata Medicala, Romania)
Iveliz Martel (El Diario, Peru/U.S.)
Columbus Mavhunga (CNN, Radio France Internationale, Voice of America, German Presse Agentur and Deutsche Welle, Zimbabwe)
Emiliano Rodríguez Mega (Freelance, Mexico)
Jonathan Montoya (EAFIT University, Colombia)
Mariluce de Souza Moura (Federal University of Bahia, Bahiaciência and Ciêncianarua, Brazil)
Pouria Nazemi (Freelance, Canada)
Ettay Nevo (Davidson Institute of Science Education, Israel)
Chinyere Opia (Spectrum Broadcasting Company, Nigeria)
Ankur Paliwal (Freelance, India)
Friday Phiri (National Agricultural Information Services, Zambia)
Rajan Pokhrel (The Himalayan Times, Nepal)
Iramis Alonso Porro (Journal Juventud Técnica and International Institute of Journalism José Martí, Cuba)
Guillermo López Portillo (Televisa and Nucleo Radio Mil, Mexico)
Fitzroy Prendergast (Cable News and Sports, Jamaica)
Peng Qian (Xinhua News Agency, China)
Jane Qiu (Freelance, China)
Irene Maria Rodríguez-Salas (La Naçion, Costa Rica)
Nadiah Rosli (Freelance, Malaysia)
Dinsa Sachan (Freelance, India)
María Mónica Monsalves Sánchez (El Espectador, Colombia)
Renata Sánchez (El Universal, Mexico)
Antoinette Sendolo (Inquirer, Liberia)
Ramin Skibba (Freelance, U.S.)
Daniela Hirschfeld Tempone (Galería and Búsqueda, Uruguay)
Viviane Thivent (Freelance, France)
Thi Thuý Bình Tran (Hanoi Radio and Television, Vietnam)
Tikondane Vega (Star FM Radio and Malawi News Agency, Malawi)
Sergio Vicke (Sistema Publico de Radiofusion, Mexico)
Niki Wilson (Freelance, Canada)
Ling Xin (Bulletin of the Chinese Academy of Sciences, China)
Shamsheer Yousaf (Freelance, India)
Suhail Yusuf (Express Media Group and Muslim-Science.com, Pakistan)
Marinee Zavala (Televisa, Mexico)
WCSJ2017 STUDENT FELLOWS
Setsen Altan-Ochir (Mongolia)
Jesus Antonio Pascual Álvarez (Mexico)
Sibusiso Biyela (South Africa)
Jillian Clemente (U.S.)
Andjela Djuraskovic (Montenegro)
Omnia Gohar (Egypt)
Inés Gutiérrez (Mexico)
Kelsey Harper (U.S.)
Amelia Jaycen (U.S.)
Elizabeth Kimbrough (U.S.)
Jennifer Lu (U.S.)
Margarida Marques (Portugal)
Michelle Morelos (Mexico)
Jia Naqvi (Qatar)
Felix Reskala (Mexico)
Odom Rithy (Cambodia)
Sebastián Rodríguez (Costa Rica)
Leah Rosenbaum (U.S.)
Ellen Rykers (New Zealand)
Sergio Villagrán (Chile)
Carolyn Wilke (U.S.)
Olansis Wolde (Ethiopia)
(NASW members can read the rest of the Summer 2017 ScienceWriters by logging into the members area.) Free sample issue. How to join NASW.