By Mary Roach
Ever since the giddy thrill of going to work in my slippers wore off, I've been writing from a leased office. The first was the San Francisco Writers Grotto, located, back then, in the old SF Dog and Cat Hospital.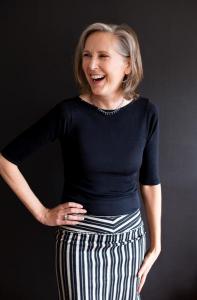 Mary Roach (Jen Siska photo)
This seemed appropriate, as there are comparisons to be drawn between lonely freelancers and sick pets. The building was ideal in that it had lots of tiny office-like spaces in the form of pet exam rooms.
When four of us in a short span of months moved from San Francisco across the bay to Oakland, we decided to get together and find an office there. This entailed wandering around downtown looking for Space Available signs.
Within a couple days, we found a cluster of available offices in a delightful old building near a BART station and within walking distance of lots of cheap eats. The manager was willing to erect some walls to split a few offices (and rents) in half. In return, we had to commit to three-year leases. We all have our own door and a window, and there's a small common area with a fridge and a microwave oven (that we supplied) and a sofa for naps.
As nearby tenants in the building vacated, we took over those spaces, too, and welcomed more people: novelists, science writers, authors, podcasters, and journalists. There's no formal application process or vetting, just word of mouth.
We're up to eight offices now, with some people sharing their spaces and lots of sublets that come and go. It's a dozen people all told. That's about right, because on any given day, maybe half of us show up. If three people rent a space, there will be plenty of days when one person is there alone, and in that case, what's the point? An office is all about having people around to talk to.
Though lots of communal work spaces these days are more open-concept, as they say on the HG Network, we like having individual offices. That way, if you're on deadline and need quiet, you just shut your door.
We're all pretty industrious and there's not a lot of noisy or protracted chitchat. That said, if you're the type of writer who needs silence, an urban office is probably a bad idea. (Cue the sounds of a paper shredder, mobile phones, jackhammers, and an entire summer of yelling people.)
Since we all have our own individual lease with the landlord, there's no downside to expanding. I recommend this financial arrangement, as opposed to one person leasing the entire space and collecting rent, which is a lot of work and stress for that one person. That was the arrangement at the Writers Grotto. After a year or so, they had to offer free rent to someone in exchange for someone being the bookkeeper/enforcer, because no one wanted to take the task on.
Our only shared expenses are internet and water delivery. In both cases, one person pays the bill and then collects money from everyone once a year. Easy.
I spent 10 years working out of my home and much prefer having an outside office to go to. The people I work with are smart and funny and accomplished. Being around them is a pleasure and an inspiration.
Mary Roach is the author of seven science-based books. Her latest, Grunt: The curious science of humans at war, was a finalist for this year's Los Angeles Times Book Prize.
(NASW members can read the rest of the Summer 2017 ScienceWriters by logging into the members area.) Free sample issue. How to join NASW.