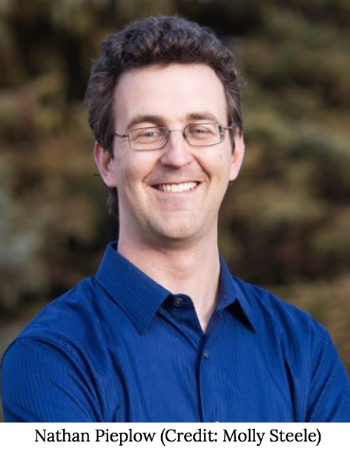 Nathan Pieplow, a professor at the University of Colorado in Boulder and author of the Peterson Field Guide to Bird Sounds, has created the winning logo for this year's ScienceWriters2020 conference.
Since ScienceWriters logos are usually inspired by the conference location, the switch to a virtual event for fall of 2020 created an opportunity to let members' volunteer their hidden visual design talents to support NASW in a logo design contest. Thank you to everyone who participated.
Pieplow's submission was inspired by fall foliage and features the leaf of the Silver Maple (Acer saccharinum), a tree that Pieplow said he grew up climbing as a child in South Dakota.
"This logo design was great fun to create," Pieplow said. "Normally I start the process with a ton of sketches, but in this case I ended up running with my very first idea. I wanted to show the leaf materializing from abstract pixels, as something of a metaphor for a conference reconstituted in digital form. I am honored to have my design chosen to represent NASW this year."
Pieplow, who joined NASW this year, authored the Peterson Field Guide to Bird Sounds, published by Houghton Mifflin Harcourt in two volumes (Eastern and Western). He teaches writing and rhetoric, including science writing and technical communication, and has become increasingly interested in graphic design. His efforts will reap him a complimentary registration to the October meeting.
ScienceWriters2020 will be held virtually in October, with a core program the week of Oct. 19-23 as well as other events throughout the month. Registration for ScienceWriters2020, a joint meeting of NASW and the Council for the Advancement of Science Writing (CASW), will open mid-August. For more information, visit sciencewriters2020.org.