By Katherine Mast
Videos are a great way to communicate science. They convey emotion and illustrate processes and phenomena. Online users tend to interact with and share videos more often than any other kind of content. A panel of science video producers offered tips on how to use this medium well.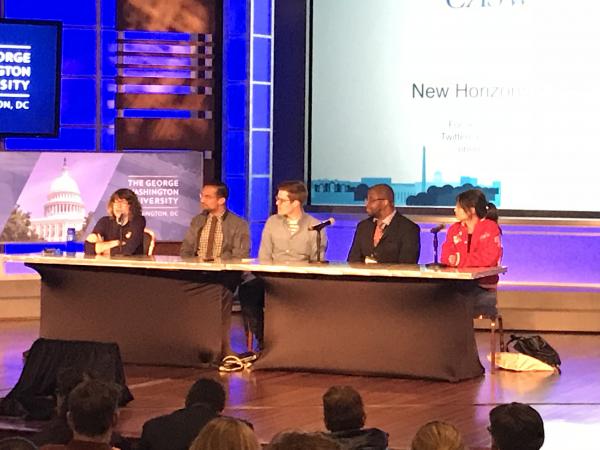 Joss Fong, a senior editorial producer at Vox, produces videos that explore science topics from robots and the future of work, to climate change and its impact on storms, to the Mercury retrograde illusion. Her highly scripted pieces include clips she creates, art available online, and commissioned illustrations. 
Her process begins with making sure she's got enough visual content, and she builds the script around that. "If you can't find them and can't make them, you don't have enough for a video story."
Erin Chapman, who produces videos for the American Museum of Natural History, begins instead with the interview. Her "Shelf Life" videos features researchers working at the museum, so "it's easy to go back and get extras."
Her goal is to produce something that doesn't need narration, but being on camera can be intimidating. To set up everyone for success, she thinks a lot about the location, action, and camera angle that will help tell the story, then tries to be over-present during the interview. 
Platform is always at the forefront for Joe Hanson, who hosts, creates, and produces the YouTube series "It's OK to be Smart." While there are many ways to offer videos online — embedded on a website, or through various platforms like Vimeo — he says "if you want people to watch things, you put them on YouTube or Facebook," two inherently social spaces.
At the American Chemical Society, Janali Thompson juggles accuracy, abundance of research, and caution in the three series he produces: "Headline Science," "Speaking of Chemistry," and "Reactions." "We can't do a video of pyrotechnics … we want to encourage lab safety!" he says. Each video goes through rigorous fact-checking, and his goal is to tell both the science and the story behind it.
Ali Mattu, a cognitive behavior therapist, started making videos for his YouTube channel, "The Psych Show," as a way to correct myths about his profession. Video is "such an intimate platform," he says. "I decided I was going to help people understand what [cognitive behavioral therapy] feels like."
The audience on YouTube — mostly 18-30 year olds — expects videos that don't sound perfect. Mattu learned to be more relaxed and to convey more of himself in his videos. And, he says, he learned to put the most curious, visually interesting content at the very beginning. "You've got 5-10 seconds to hook your audience … so you lead with awesome."
For anyone interested in giving video a try, Mattu suggests Instagram Stories as an easy, low-stakes platform.
Joss Fong, Vox

Erin Chapman, American Museum of Natural History:

Joe Hanson, It's OK to be Smart:

Janali Thompson, American Chemical Society:

Ali Mattu, The Psych Show: