By Hannah Hoag
I do most of my interviews with Skype on my computer and record many of them directly to my hard drive with Audio Hijack. It works well, except when my source doesn't pick up the phone — and returns my call on my smartphone. Up until now, I've just tried to type a lot faster.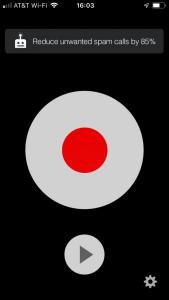 TapeACall app's big red button
But a few weeks ago, a freelancer on a journalism listserv said she swore by TapeACall for her iPhone-based interviews. I figured it was worth a test drive.
Unlike other call recorders, which charge you on a per minute basis or require you to sign up for a monthly subscription, TapeACall is $10.99 for iOS and and $9.99 for Android.
TapeACall works on a simple principle: It creates a three-way (conference call) among you, your source, and their servers. Check that your mobile plan includes free conference calling. Some plans charge a premium, which can lead to a nasty surprise on your next bill.
When you sign up, you provide your mobile number, allowing the TapeACall service to connect you with a local number. When you record a call, you use up minutes from your plan but don't pay long-distance fees.
The instructions are simple enough:
Make your call.
Open the TapeACall app.
Press the giant red button.
Merge the calls.
My first call didn't go so well.
Can you hear me now?
After the call came in, I tapped over to the app and pressed the red button. Then I got flustered. Was I supposed to put the caller on hold? Why wasn't the merge button enabled?
I can't be sure what I did, but the call never started recording, and I spent the next 30 seconds saying, "Hello? Hello? Can you hear me?" We both hung up and connected over Skype instead.
Try #2 made me a believer.
This time I had been trying to reach an author to talk about an embargoed paper. The deadlines were tight, the author was in another time zone, and was surely getting several calls from other reporters. I had a window when I could reach him, and when I called, I got his voicemail.
When he phoned me back on my mobile, I took a moment to collect myself and launched the app again. This time I followed the steps to a T.
I informed my source that I would be recording the call and that he might be put on hold for a few seconds. After the app connected to the third-party number, the "Merge Calls" button became enabled. I pressed it, we re-connected, and were happily on our way to a great (and recorded) interview. Note that you can also start recording first and then place your phone call.
Lesson learned: I had forgotten step #3.5 — wait patiently until you can merge the calls. TapeACall does say in their FAQ that this can take up to 30 seconds with some carriers and advises calling a friend the first time you use it. I obviously did not heed their advice.
After the call, I renamed the file and transferred it to Dropbox. You can also send it to Evernote, Google Drive, email it to yourself, or send it to a host of other social media. The quality of the recording was great.
Put it on paper
I rarely transcribe my interviews. But there are times, especially for longer pieces, where it's useful to get the full conversation on paper, where you can see it all.
When I do, I tend to use oTranscribe. You upload your file (mp3, mp4, m4a, amr, wma or wav), press play, and start typing.
Here's why it works: You don't need to toggle back and forth between your listening and writing applications. When you press pause (esc), the app automatically rewinds the recording by 2 seconds so you don't miss a word. When you're done, just export the text to markdown, plain text, or Google Docs. The data are stored on your browser, not on their servers, so you can use it offline.
Of course, the dream is to avoid transcription at all. Transcribe converts audio to text automatically. There are several others transcription apps available, and it's best to try them before you buy — they often don't do well with technical information.
Transcribe offers a free trial — and you don't need to provide a credit card, which is nice. Transcribe saved me time on several long interviews, but, in the end, I haven't made the purchase. I'm not the biggest fan of subscription-based software to begin with and I find the price of the Transcribe plan a bit steep. The self-transcribe fee is $20/year and you can purchase add-on packs for auto-transcription at $6 per 60 minutes.
So, I'm still looking for a good low-priced transcription app. What do you use?
Hannah Hoag is a freelance journalist and the environment and energy editor at The Conversation Canada. She has written for the New York Times, Science, Nature, bioGraphic and other publications.
Image credit: Ak~i via Flickr/Creative Commons