After three years at a newspaper working sans recorder, I decided to take the plunge into freelance science writing. But what happens when one contemplates audiences orders of magnitude larger than before? The holy-s***-o-meter hits nine. To minimize insomnia and nighttime panic attacks, I decided it was time to get myself a recording system.
So I started asking around. But the suggestions I was getting were a bit startling. One friend suggested recording interviews on a digital camera and transcribing when I got home. Another suggested recording via Internet phone call. What about the old-fashioned (!) digital recorder, and hooking that up to my cell phone in some way? How would I archive interviews with any of these systems? Being, if not a technophobe, not a technophile, I decided to do a bit of research.
Instead of outlining every single option (which would take forever and soon be outdated), I'm going to present five general systems for recording interviews of note-taking quality, plus a few bonus suggestions. Perhaps in these systems you will find one that suits you perfectly, or one that inspires you to think of your own custom rig in what is now the Wild West of transmission and recording technology.
David Lawrence: Skype with Pamela and a Digital Recorder ">David Lawrence: Skype with Pamela and a Digital Recorder
David Lawrence, a journalist and scientist who works in Mechanicsville, Virginia, started out in the world of analog. But it left a lot to be desired. "It was play, rewind, play, rewind, and that was just a nightmare," he says.
He began using Skype with Pamela software a little over a year ago, after hanging out with an Irish folk-band and their beer-run driver at a national folk music festival. He noticed the leader using Skype to call home.
"He tested it by waking up his wife in Ireland 3 or 4 o'clock in the morning," he says. "I remembered [that] when I was looking to do international calls."
Skype, as I understand it, is a service for making phone calls over the Internet. Pamela is a program that lets you record them. There are a variety of Internet phone services and recording programs that let you do this — Skype and Pamela are by no means the only two. NASW member John Gever uses Skype with WireTap, but the program is for Macs only.
With Skype, it's also possible to place video calls, just like the video phones promised of yore. Skype-to-Skype calls — calling directly from your computer to someone else who has Skype — are free.
Unfortunately, not all of your sources will have Skype. In that case, you can either pay a per-minute rate of 2.1 cents for access to about 30 countries, or sign up for a no-contract, all-you-can-call, month-to-month subscription that ranges from $2.95 per month for calls to the U.S. and Canada to $12.95 a month for the top international plan. Basic Pamela is free, but you can only record calls up to 15 minutes long and you can't download the audio files to your computer. For unlimited call recording and downloading, the one-time price is $29.95.
Lawrence likes the convenience and modest price of Skype and Pamela. He frequently calls internationally, so Skype's international plans made good sense for him. Instead of a telephone handset, he uses a headset with built-in microphone that plugs into his computer. He tries to take notes by typing, but if he can't keep up he just listens. He starts Pamela before making the Skype call and after finishing, saves the files as mp3s that can be played with any mp3 player. For in-person recording, he uses a Sony ICBP 28 digital recorder that connects via USB port for downloading to the computer.
To keep himself organized, he puts the name of the publication, the name of the person interviewed, and the date into the file names of his recordings.Then he puts them into a folder labeled "interview recordings." He then backs up his files using a service called Carbonite ($54.95 per year).
Skype is not for those doing radio or interested in high sound quality. Though generally good, the quality can fluctuate and become tinny. Lawrence has also run into problems where the computer doesn't think it hears anything and Pamela doesn't think it's recording, so he panics and shuts down the computer only to find it was indeed recording. Yet on high-processor-use days, he says, recording failures can actually happen as his computer bogs down, and the recording may be spotty. To prevent this, he shuts down extraneous programs in advance.
Yet another Skype limitation is that you must have Internet access to make and record calls. If your home Internet service goes down, or you can't find wireless access out in the field, you will need a backup system.
All in all, though, Lawrence likes and recommends Skype. It works seamlessly with Pamela, he says, is a lot cheaper than AT&T and the sound quality of the mp3s produced is good. There's no messing around with attachments, converting, or downloading, he says — it's all ready to go when you finish.
Peter Bronski: Digital Camera and Analog Recorder ">Peter Bronski: Digital Camera and Analog Recorder
Peter Bronski is a freelance writer and author of books, including the soon-to-be-released stormchasing book Hunting Nature's Fury. He frequently writes about outdoor sports or adventure travel that takes him into the field and has developed a hybrid system for recording interviews and notes.
At home, he uses an old-fashioned cassette tape recorder he connects to a wall jack and the phone hand- or headset. Once the recording is finished — and this is a crucial sanity-preserving step in the process, he notes — he keeps the tapes dated and labeled on a shelf he can browse as needed. For in-person interviews, he simply hits "record" and puts the device in an inconspicuous location.
Bronski also takes notes in some extreme conditions and environments — such as when he's undergoing heavy physical exertion or enduring cold that could stiffen or damage exposed hands. When he's clinging to a rock face or spending four days ski mountaineering, he uses his digital camera — which he has with him anyway to take pictures — to record video notes.
"It's a fast, efficient, and easy way when I'm in the backcountry to take notes for a story without carrying pen and paper," he says.
All day long he repeats the key points of the day to himself in his head. Then, at the end of the day, he puts his Canon Sure Shot in "compressed mode," a low-quality setting, turns the camera on himself, and dictates his notes in a video. Of course, when you put all your note-taking eggs in one basket, many spare sets of batteries are essential.
One can easily imagine this process would be useful, say, for interviews on a research vessel in the Antarctic or in a steamy jungle preserve where your notepaper would start mildewing practically on contact with the air. Video can also capture details of your surroundings or subjects (What color jacket was he wearing? What frequency was the instrument set on?) that an audio recorder would not.
Cassandra Willyard: Olympus Digital Recorder and Olympus Telephone Recording Device">Cassandra Willyard: Olympus Digital Recorder and Olympus Telephone Recording Device
If necessity is the mother of invention, desperation is the mother of some really bad ideas. Cassandra Willyard, a freelance science writer, began her recording career by putting her cell on speakerphone and hitting "record" on her Olympus digital recorder. "It's terrible quality and really annoying to have someone on cell phone speakerphone," she says. "I felt like they could always tell."
Searching online, Willyard discovered an Olympus accessory, the TP-7 Telephone Recording Device, which plugs into the mike jack of her recorder. A cord from the jack ends in an earbud that sits in her ear. Then she holds the earpiece of any phone up to the device in her ear and what is essentially an external bug records the conversation — both her voice and that in the phone — handily. At $18-$20, it's affordable too. Digital recorders can be had for about $45 and up.
"The thing that I love is that it's not connected to my phone at all, so whatever phone I want to use I'm free to use it," she says. "And it's really tiny so I can take it on the road and use it with my cell phone, I can use it with a land line, it doesn't matter."
Her only quibble is the sound quality which, while good, is not good enough for audio broadcast. And then there is the inconvenience of having to manually download the recordings to computer. She's also not sure how the device would work with a non-Olympus recorder.
Willyard heartily endorses the system. "Everybody has some horror story about their recorder or system failing, and I have yet to have that happen with this phone device," she says. "I mean, I'm sure it will happen someday, but it hasn't yet."
Devon Schuyler: DynaMetric Recording Patch and Olympus Digital Recorder">Devon Schuyler: DynaMetric Recording Patch and Olympus Digital Recorder
Devon Schuyler, a medical writer and editor, bought her first recording patch 20 years ago. She wore it out after 10 years and is on her second — a DynaMetric model she connects to a digital recorder. This is different from the device Willyard uses in that it physically connects her telephone to the recorder, for a high-fidelity recording. Schuyler's model works only with land lines, but there are models that fits cell phones as well.
For in-person interviews, she plugs an external microphone into her Olympus recorder for the best sound quality, though that doesn't come cheaply. Her mike cost about $120.
The best thing about her system, she says, is the great audio quality. Only thick accents or errant coughs in conferences stymie her.
She doesn't have any dislikes, she says, although she did discover a flaw in her system several years ago when, after losing the suitcase containing her recordings while traveling, police told her it might have been stolen, rifled for cash, and dumped. She spent the next few hours rummaging through trash bins outside Penn Station.
"I actually had homeless people ask me if I was hungry," she says. "It was so pathetic."
As it turned out, the bag had fallen out of the bus as it rounded a turn, and a man found it on the highway and shipped it back to her. It made an impression, though. Now Schuyler always makes backups of her recordings by burning them to a CD each night.
Minda Zetlin: Google Voice and Olympus Digital Recorder">Minda Zetlin: Google Voice and Olympus Digital Recorder
Google Voice, in theory, has it all. The service, among many other creative features, is a phone-line organizing service that routes all your phone lines into one master number. You can also use the service to screen callers, record voice mail that Google will automatically transcribe, direct calls to ring some phones and not others, or record calls automatically with the touch of the number four on your keypad. But there's a hitch: the recording function only works for incoming calls. So you'd have to ask sources to call you — which seems a touch impolite. Also, the system will still cost you whatever the price is for sending calls to a particular phone; unlike Skype and other Internet phone providers, you must hook Google Voice up to existing lines.
Still, journalist Minda Zetlin has used Google Voice for non-recording purposes and adores the free service. In particular, she likes the ability to route as many numbers as she wants into her Google Voice number and the service's voice mail transcription service. These features would, for example, allow her to get her voice messages as transcribed emails while in Europe. "Those two features to me are really the killer qualities," she says.
The call quality is good, she says, though it also depends on the quality of the phone lines on either end of the Google Voice nexus. The only reason Zetlin hasn't used Google Voice for recording is that her existing Olympus digital recorder and recording patch provide such good sound quality, she says.
For the purposes of this article, I signed up for Google Voice and recorded a conversation with my sister. If you're looking for a discreet system, Google Voice isn't for you, since it loudly announces "call recording on" to both parties as soon as you hit four. But when you're done, your recording is neatly archived in the "recorded" folder of Google Voice. From there you can embed, download, or email the recording where you wish. You can even archive it (although that didn't work for me — but that may be a Firefox issue) — but you can't rename the file within Google Voice. It is simply logged as a recording from a certain person at a certain length. The slider bar on the recording playback, however, makes for easier manual transcription. Google Voice's automatic voice transcription system seems to be available only for voice messages and not recorded calls at present. That didn't stop this reporter, however, from suggesting it to Google.
My Decision: Skype with Pamela">My Decision: Skype with Pamela
Ultimately, what pushed me in the direction of Skype is not the recording system per se (although that's nice), but the cost of calling. I don't have a land line, and for this article I exceeded the 450 minutes I typically use per month on my Verizon cell phone, adding an extra $20 to my bill (ouch!). Google Voice and any digital recording system would require using my cell phone. Skype does not, and adds a mere $3 a month to my bills for all the calls to the U.S. and Canada I can make, compared to an extra $20 a month for the next Verizon minute upgrade. In addition, the automatic file download is appealing to a person who has trouble downloading pictures from her digital camera. Everyone needs a Plan B, so I plan to use Google Voice as a backup if Skype isn't working.
Bonus: Turn Your Smartphone Into a Recorder">Bonus: Turn Your Smartphone Into a Recorder
NASW member Mike Wofsey reports that his Palm Centro and its ilk can record conversations using inexpensive second-party apps. A quick search for iPhone recording apps seemed to indicate there are over a dozen. Wofsey purchased CallRec for $5 (though it appears to be $19.99 now); it records interviews right into the SIM card of his Palm. "The recording software CallRec for my Palm Centro is perfect," he writes in an email. "I couldn't ask for a single feature that isn't included. If I had something this good ten years ago, I probably wouldn't have thrown my cassette recorder against the wall of my apartment in absolute frustration."
Bonus: Taking the Pain out of Transcribing">Bonus: Taking the Pain out of Transcribing
Every journalist knows that even when you have a recording, that doesn't prevent the pain of listening to them for quotes or, even worse, transcribing them. Though voice recognition software can only be trained to recognize one voice, Devon Schuyler has a solution for that problem: She listens to the recording via a headset and then dictates it herself to the voice recognition program. It sounds a bit confusing, but some people actually do just this for a living. "This is what translators do," she says, "except they're dealing with two different languages."
Bonus: Free Conference Call Service">Bonus: Free Conference Call Service
Freeconferencecall.com lets you schedule (at no charge) a conference call that all participants can call into for free. It records the conversation, and then lets you download it as a WAV file, an RSS feed, or a podcast. The only catch is that you cannot record a new call without deleting an old one, so old recordings must be downloaded first. But you can't beat the price!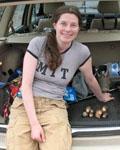 Jennifer Frazer is a science writer for the COMET program at the University Corporation for Atmospheric Research in Boulder, Colorado, and was formerly the health and environment reporter at the Wyoming Tribune-Eagle in Cheyenne, Wyoming. She won the 2007 AAAS Science Journalism Award in the small newspaper category for work she did while in Wyoming. She also blogs humorously about biodiversity and natural history at theartfulamoeba.com and is planning to begin a part-time freelance career once her Skype headset arrives.