By Julia Calderone
An image of a man with pink scars running up and down the inside of his arm flits across the screen. A used heroin needle rests on the sink next to him.
"Addiction is one of the most stigmatized and not spoken about complications," said Cassie Rodenberg, a Scientific American blogger and science teacher at a South Bronx middle school. "These are the people who are ignored."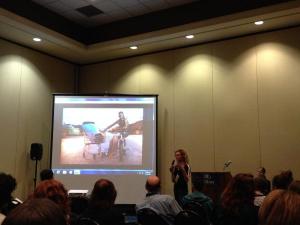 Rodenberg's blog on addiction and mental illness, "The White Noise," exemplifies a nuanced way that contemporary reporters are turning their passions into work. Her blogging was one of four topics of discussion at the "A View From the Future" workshop on Saturday.
After burnout from working a traditional nine-to-five job as a science reporter, Rodenberg turned to the streets of the Bronx to talk to real people about real-world issues like homelessness, drug use and mental illness.
"It's this intensive personal reporting that allows you to truly know a topic," said Rodenberg.
One of the most important things a writer can do is to find a passion and figure out how to make it work professionally, she said. Rodenberg connected with a photographer on Twitter and started her photo and blogging project.
For a deeper immersion into the community, she began teaching science at a middle school in the South Bronx with high gang activity. During the day, she infused science into the minds of underprivileged youth. At night, she sat under bridges with drug addicts and listened to their stories.
"It made me a better reporter and helped me understand this neighborhood by doing something that wasn't even journalism. Seeing where these families come from was a full immersion," said Rodenberg.
Another speaker at the workshop, Mollie Bloudoff-Indelicato, an editor at EverydayHealth, spoke to the importance of taking risks and embracing failure in our reporting, which was the running theme of the workshop.
As the changing climate of journalism forces science writers out of traditional journalism desk jobs and into an uncertain job sphere, it's more necessary than ever to jump out of the comfort zone. Journalists must create ways to make a living off of topics that they enjoy.
Forming professional partnerships is equally as important, said Rodenberg. By collaborating with her photographer, she brings a striking visual component to supplement her writing, giving the reader another port of entry into her subjects' lives.
At the end of the talk, Rodenberg left us with this: "What do you want to accomplish with your work? Finding a way to do it in an interesting and nuanced way is important, which may not be from a traditional newsroom."
Not all journalists will find their passion under bridges or in disadvantaged schools, but stories abound for journalists who are passionate about their work and who aren't afraid to try something new.
Also see: Another report from Paul Raeburn.