The Science Writers' Handbook and its spinoff titles, focused on essays and investigative reporting, have become must-read guides for all science writers. Whether you're a journalist, communicator, educator or scientist, the books offer fun, pithy and readable advice for launching a new career or enhancing your existing one. These books were supported in part by generous grants from the National Association of Science Writers.
The Science Writers' Handbook: Everything You Need to Know to Pitch, Publish, and Prosper in the Digital Age
By the Writers of SciLance, edited by Thomas Hayden and Michelle Nijhuis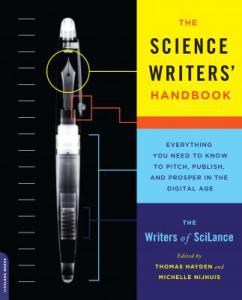 In The Science Writers' Handbook, 31 leading science writers share their hard-won wisdom and illuminating stories, going beyond the basics to cover everything else you need to survive and thrive as a science writer. From how to structure a story, to dealing with perennial writer's downfalls like envy, procrastination and loneliness, to finding health insurance and doing your taxes, The Science Writers' Handbook is your comprehensive guide.
Carl Zimmer, New York Times columnist, says, "This book feels like a wonderful cheat sheet for the profession."
A Chinese edition of The Science Writers' Handbook will be published in April 2019.
The Science Writers' Essay Handbook: How to Craft Compelling True Stories in Any Medium
By Michelle Nijhuis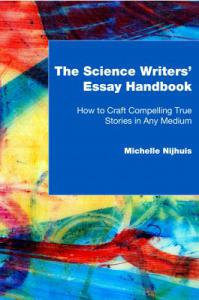 Though the essay form is more than four centuries old, it's perfectly suited to the digital age — and to science writing. The Science Writers' Essay Handbook will show you how to:
Recognize and develop essay ideas
Research and report for the essay form
Develop a distinctive authorial voice
Revise and polish your essays for publication
Apply your essay-writing skills to stories of all kinds, from longform narratives to multimedia productions to social-media posts
No matter what kind of science storyteller you are, The Science Writers' Essay Handbook will give you new tools to bring out the best in your work.
"A fine antidote for a tough case of writer's block, as well as a solid resource for a science writing class or for any science writer seeking to improve their craft. For professional science communicators, it provides a pathway to step outside 'the news voice' of modern journalism. For scientists, it can serve as a guide for exploring the enlightenment gained through personal narrative." — American Scientist
The Science Writers' Investigative Reporting Handbook: A Beginner's Guide to Investigations
By Liza Gross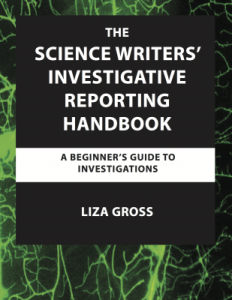 Anyone can add accountability reporting to science stories with the right tools and mindset. The Science Writers' Investigative Reporting Handbook is a practical, step-by-step guide that will help you:
Launch science-based investigations
Cultivate sources
Choose an investigation
Work with data and organize materials
Bulletproof stories to avoid legal and ethical pitfalls
The Science Writers' Investigative Reporting Handbook makes a timely case for why journalists should cover science with the same skepticism they would bring to any other human endeavor. Pulitzer Prize-winning science journalist Deborah Blum calls it, "not only a guide to good reporting — it's a compelling treatise on why it matters so much."