In the leadup to ScienceWriters2020, the Council for the Advancement of Science Writing and the National Association of Science Writers will be offering a free, weekly series for members of the media and the public. Topics will include an analysis of COVID-19 coverage thus far, the challenges scientists and science writers face as the pandemic and politics converge, and how COVID affects children, families, and college students. The events, which will be held on three Wednesdays, kick off on September 30.
Learn more and register below. Registration is free and each session requires a separate (quick!) registration.
Wednesday, September 30 5:00-6:00 PM Eastern
The politics of the pandemic
Missed this session? Watch it on YouTube.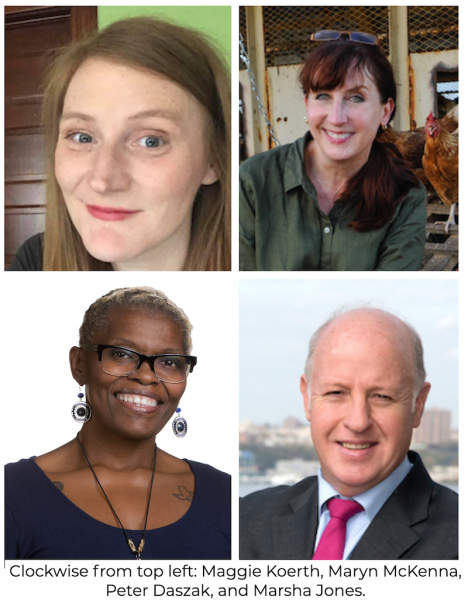 Science and science journalism are never just about what happens in a laboratory, and the COVID-19 pandemic has tangled the worlds of science and politics into some particularly spectacular knots. To make sense of this story, you've got to understand how politics has affected what we know (and don't know) about this virus, how public health campaigns are influenced by political trends, and how the needs of a pandemic have reshaped political goals. A journalist, a health advocate, and a scientist share views from the front lines of a political pandemic.
The session will be moderated by Maggie Koerth. Koerth is an award-winning senior science reporter at FiveThirtyEight.com and a board member for the Council for the Advancement of Science Writing. Her work has long focused on the way science and society interact, and in particular on stories that illuminate where facts come from and how the results of scientific research get used in the real world. She has covered everything from efforts to predict where tornadoes will land, to the sex lives of pandas, to the difficulty of counting who has and hasn't died from COVID-19. @maggiekb1
Maryn McKenna is an award-winning independent journalist who specializes in public health, global health, and food policy, and a Senior Fellow at the Center for the Study of Human Health at Emory University, where she teaches health and science writing and storytelling. She writes for The New York Times Magazine, WIRED, The New Republic, National Geographic, Mother Jones, Newsweek, NPR, Smithsonian, Scientific American, Slate, The Atlantic, Nature, and The Guardian, among other publications. @marynmck
Texas native Marsha Jones is co-founder and executive director of The Afiya Center, the only reproductive justice organization in North Texas founded and directed by Black women. In response to the pandemic, the center has pivoted into political battles over Medicaid expansion and against the reopening of the state. Jones is a national grassroots organizer, community mobilizer, professional speaker, and health educator with a commitment to transforming women and girls' lives. @theafiyacenter
Disease ecologist Peter Daszak is president of EcoHealth Alliance, a US-based organization that conducts research and outreach programs on global health, conservation, and development. His work has been instrumental in identifying and predicting the origins and impact of emerging diseases across the globe. Daszak is a member of the National Academy of Medicine and a regular advisor on pathogen research to the WHO. The alliance lost its NIH funding this year when its research into bat coronaviruses in Wuhan, China, was caught up in President Trump's political rhetoric. @PeterDaszak
REGISTER for "Politics of the pandemic"
---
Wednesday, October 7 5:00-6:00 PM Eastern
Reporting on the pandemic
Missed this session? Read a recap.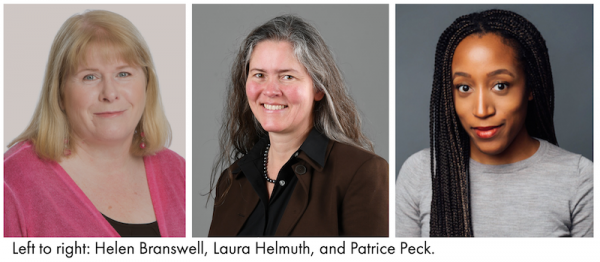 The coronavirus pandemic has been the science story of the year. Science writers have grappled with reporting on a story that progressed rapidly and continues to wield a ton of uncertainty. With insight from experienced science journalists and those covering the pandemic, this session will offer science writers and the public an opportunity for mutual understanding, especially as frustration over - and dangers from - misinformation grow.
Helen Branswell is a senior writer covering infectious diseases and global health at STAT, an online news publication focused on health, medicine, and scientific discovery. She has been with STAT since its November 2015 launch. Branswell came to STAT from The Canadian Press, Canada's national news agency. Branswell won the Association of Health Care Journalists' 2017 beat reporting award. She was a 2011 Nieman Global Health Fellow at Harvard and CDC Knight Fellow in 2004. @helenbranswell
Laura Helmuth is the Editor in Chief of Scientific American. She has previously been an editor for The Washington Post, National Geographic, Slate, Smithsonian, and Science's news section. She serves on the boards of High Country News, Spectrum and SciLine and is a member of the National Academies' Standing Committee on Advancing Science Communication. She served on the NASW board and as president 2016-2018. @laurahelmuth
Patrice Peck is a multihyphenate creative with a 10-year background in journalism, on-air hosting, and multimedia production. She recently launched the newsletter Coronavirus News for Black Folks and specializes in discovering and amplifying underreported stories at the intersection of race, culture, and identity. Her work can be found at EBONY, The New York Times, Los Angeles Times, Vogue, Teen Vogue, ELLE, BuzzFeed and more. @SpeakPatrice
Zeynep Tufekci is a contributing writer at The Atlantic and an associate professor at the University of North Carolina. She studies the interaction between digital technology, artificial intelligence, and society. @zeynep
REGISTER for "Reporting on the pandemic"  Note: This session will not be recorded.
---
Wednesday, October 14 5:00-6:00 PM Eastern
The pandemic's impacts on families, kids, and college students

The COVID-19 pandemic has had a profound impact on families across the United States and the world. Parents are struggling to keep their families healthy while also ensuring that their kids can continue to develop mentally, emotionally, and physically. Children and young adults are facing increasing rates of mental illness, including rising anxiety and depression. The University of Colorado Boulder, CU Anschutz Medical Campus, and St. Jude Children's Research Hospital team up to discuss these impacts, drawing on their decades of research.
This session will be moderated by Aditi Subramaniam, who is a neuroscience PhD turned freelance science writer. She writes on the Psychology Today website on parenting from a neuroscience perspective, and is a science contributor to the Deccan Herald online. Her articles focus on the intersection between neuroscience and everyday life, and as the mother to a 2-year old girl, she has the ideal experiment subject at home. @Aditi789
June Gruber is an associate professor of psychology and neuroscience at the University of Colorado Boulder and director of the Positive Emotion and Psychopathology Laboratory. She received her PhD from UC Berkeley and was previously an assistant professor of psychology at Yale University. Gruber's research focuses on delineating the ways in which positive emotion can go awry and how aspects of positive emotion can be a predictor of maladaptive behavioral syndromes and relevant psychological health outcomes. @junegruber
Steven Berkowitz is a professor in psychiatry at the University of Colorado Anschutz Medical Campus. He was previously on the faculty at Yale University and the University of Pennsylvania. Dr. Berkowitz's career has focused on the prevention, intervention, and treatment of trauma in children, adults, and families. An expert on the mental health issues at the forefront of the current pandemic, he leads a statewide initiative to provide mental health resources to healthcare workers to help them through this difficult time.
Kendra Parris is a psychologist at St. Jude Children's Research Hospital in Memphis, Tenn. Her research focuses on the psychosocial functioning of children and adolescents undergoing bone marrow transplantation and on psychological adjustments to illness and chronic medical conditions in children and teens. Parris holds doctoral and master's degrees from Florida State University and a bachelor's degree from Johns Hopkins University. @DrKendraParris
REGISTER for "The pandemic's impacts on families, kids, and college students"
---
Wednesday, October 14 6:30-7:30 PM Eastern
A virtual tour of UW Medicine's Virology Lab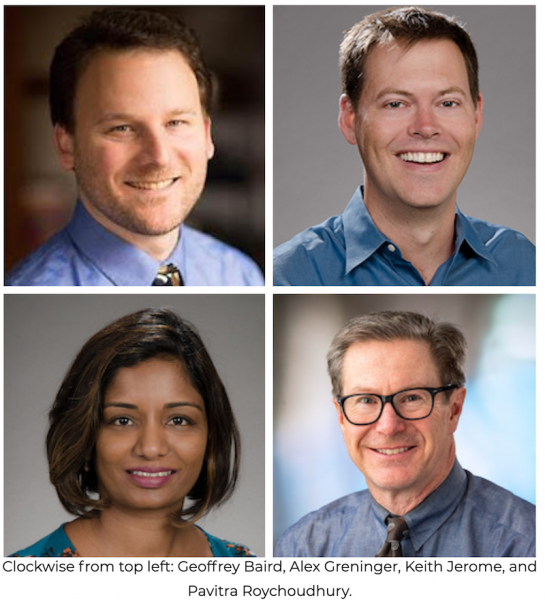 Seattle's UW Medicine Virology Lab has been at the forefront of the fight against the coronavirus pandemic since its beginnings in the U.S. The lab developed its own test for COVID-19, assessed potential therapeutics such as hydroxychloroquine, and is now beginning a project to test 7,000 people repeatedly for the virus and antibodies. This tour will provide a rare inside look at a lab that's typically off limits to visitors due to biohazard concerns. Take a virtual tour with leading researchers on and stick around for the Q&A that follows.
The session will be moderated by Susan Gregg, director of media relations at the University of Washington. Gregg began her media relations role at Harborview/UW Medicine in 2001. She brings over 30 years of experience in media relations and communications. She works daily with the media and is a media spokesperson for Harborview, UW Medicine, UW Medical Center, Airlift Northwest and other UW Medicine entities.
Geoffrey Baird is a board-certified pathologist and acting chair of UW Medicine's Department of Laboratory Medicine and Pathology. He contributed to the creation of a rapid and accurate test for SARS-CoV-2 soon after the virus was detected in the United States. Dr. Baird earned his MD and PhD at UC San Diego. @uwpathology
Alex Greninger is assistant director of the UW Medicine Virology Lab and assistant professor of Laboratory Medicine at UW. His research focuses on genomic and proteomic characterization of human viruses. Dr. Greninger has co-discovered multiple human and animal viruses, and helped lead the effort to develop an RNA-based test for COVID-19. He earned his MD and PhD at UC San Francisco, his MS at Stanford and his MPhil at Cambridge in England. @GreningerLab
Keith Jerome is head of the Virology Division at the University of Washington School of Medicine and director of the UW Medicine Virology Lab, as well as a faculty member at Seattle's Fred Hutchinson Cancer Research Center. His research focuses on the biology of viral infections. One of his current projects aims to increase the capacity and speed of testing for COVID-19. Dr. Jerome earned his MD and PhD at Duke and served his clinical residency at UW. @UWVirology
Pavitra Roychoudhury is an acting instructor at UW Medicine's Department of Laboratory Medicine and Pathology and research associate at Seattle's Fred Hutchinson Cancer Research Center. She collaborates with multiple research groups at UW and Fred Hutch on modeling and bioinformatics problems related to COVID-19, herpes simplex virus and HIV. She earned her PhD in bioinformatics and computational biology at the University of Idaho. @pavitrarc
REGISTER for "A virtual tour of UW Medicine's Virology Lab"
---
About
The National Association of Science Writers is a community of journalists, authors, editors, producers, public information officers, students and people who write and produce material intended to inform the public about science, health, engineering, and technology. NASW promotes the professional interests of science writers nationally and globally, plays an active role in supporting efforts to ensure writers are paid for their work, and advocates for copyright protections for writers.
Above all, NASW fights for the free flow of science news. NASW actively promotes press freedom and facilitates efforts to preserve and improve access to information related to science and scientific research.
To learn more, visit nasw.org. To join our community, visit nasw.org/join.
The Council for the Advancement of Science Writing, a panel of distinguished journalists and science communication practitioners and supporters, is committed to improving the quantity and quality of science news reaching the public. CASW develops and funds programs to help reporters and writers produce accurate and informative stories about developments in science, technology, medicine and the environment. To learn more, visit casw.org. To donate in support of this and other CASW programming, visit casw.org/support.
This series provides a sampler of the educational and professional development content offered at the annual ScienceWriters conferences co-organized by CASW and NASW. Science writers are invited to register for ScienceWriters2020 through October 1.
Contributing institutions
The University of Colorado's Boulder and Anschutz Medical campuses and St. Jude Children's Research Hospital are working with CASW on plans to host the ScienceWriters2021 and ScienceWriters2023 conference. They offer the panel on family impacts in support of accurate science reporting and the health of all families. Special thanks to UW Medicine for contributing a virtual version of the tour experiences that are a popular element of in-person ScienceWriters conferences.