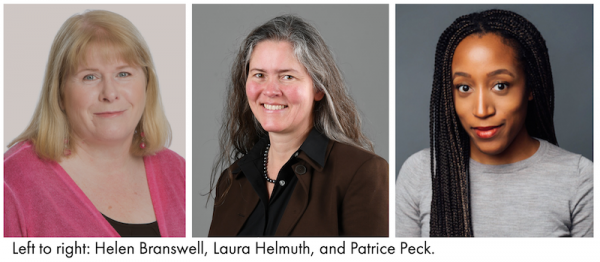 In today's cluttered, digital-first media environment, the pressure to break news fast leaves little time for many reporters to do deep dives and big picture stories on the COVID-19 pandemic.
Three science writers with very different approaches to grappling with this issue shared insights into their reporting tactics in an October 7 webinar organized by NASW Program Committee volunteers Jill Adams, Eli Kintisch, Cassandra Willyard, and Siri Carpenter.
Part of the COVID-19 Science & Coverage series organized with the Council for the Advancement of Science Writing, the "Reporting on the Pandemic" session featured Helen Branswell (@HelenBranswell), Patrice Peck (@SpeakPatrice), and Zeynep Tufekci (@zeynep), and was moderated by Laura Helmuth (@laurahelmuth), editor-in-chief of Scientific American.
By creating the newsletter, Coronavirus News for Black Folks, Peck, a seasoned freelancer, aimed to cut through the noise and create a space dedicated to stories about how the Black community is disproportionately impacted by the pandemic.
"I've always covered the Black community and health disparities in the Black community, but only now during the pandemic, when people have been sitting at home, has there been this sudden interest in it," she said.
Tufekci, an associate professor at the University of North Carolina and contributing writer to several major publications, wrote her first piece on the pandemic, a February 27 Scientific American article titled "Preparing for Coronavirus to Strike the U.S," after realizing the virus would wreak havoc among our ill-prepared nation.
Tufekci reads around 100 journal articles before penning a piece, a luxury she acknowledges comes from being a professor and not a beat reporter. After her Scientific American piece was published, she continued writing about the pandemic because she felt frustrated with science journalism's tendency to report on single studies and preprints, which can be misleading to the public.
Branswell, a senior writer covering infectious diseases and global health at STAT, said such in-depth reporting isn't practical for most outlets or journalists, who cover breaking news and have to turn stories around in a matter of hours.
"A lot of journalists are independent writers who would never get paid if they had to read a hundred papers before they wrote a story," Branswell said. Branswell's April 3 STAT article "Americans are underestimating how long coronavirus disruptions will last, health experts say" is one of more than 100 she's written on the science and politics of the pandemic.
The panelists discussed ways to tackle this discord, including encouraging editors to give writers time and space to work on longer pieces, using more caution when covering emerging research, and exploring the role of philanthropic foundations in funding in-depth reporting projects.
Peck's May 29 New York Times article "Black Journalists Are Exhausted" and July 14 New York Times article "Self-Care for Black Journalists" both focus on the added emotional strain Black journalists in the U.S. face as they are continually confronted with systemic racism and violence.
When the subject of misinformation was broached, Branswell said she doesn't devote a lot of time to going down Twitter "rabbit holes" preferring to fight back with her own timely and accurate coverage. Tufekci, on the other hand, uses Twitter to challenge misinformation, and has created a "misinformation" list to keep an eye on repeat offenders. As an editor, Helmuth chimed in, noting the importance of accurate headlines during a time when politicians' soundbites aren't always truthful.
Also discussed during the session were stories to watch over the coming months, including:
The impact of winter in the Northern Hemisphere and a seasonal increase in other respiratory pathogens on the spread of COVID-19; the results of vaccine trials (Branswell).
The impact of the pandemic on marginalized and disenfranchised communities and the communities within those communities (Peck).
The complex concept of herd immunity, the policy changes that would come into effect under a new administration, and implementation of mass testing (Tufekci).
Offered in the lead up to ScienceWriters2020, COVID-19 Science & Coverage is a weekly series for members of the media and the public. Topics include an analysis of COVID-19 coverage thus far, the challenges scientists and science writers face as the pandemic and politics converge, and how COVID affects children, families, and college students. Learn more and register for the October 14 sessions.
Hero image by Visuals3Dde on Pixabay.