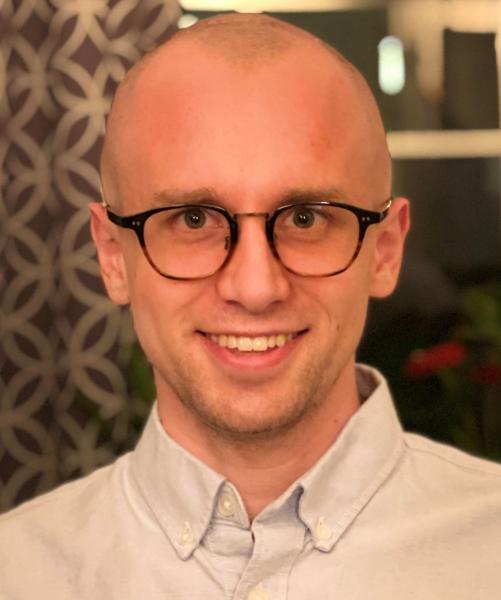 Andrew Meissen (@AndrewMeissen) is the recipient of the 2021 Diane McGurgan Service Award from the National Association of Science Writers (NASW). The award is presented annually to a volunteer or volunteers who have gone beyond the call of duty to lead or support NASW programs and activities.
Jill Adams, NASW president, announced the award at our Annual Business Meeting, held October 4 during the virtual ScienceWriters2021 (#SciWri21) meeting. She recognized Meissen, a freelance journalist who joined NASW in 2020, for his work to create and lead #SciWriThrive, a mental health-focused support group for science writers.
"Andrew attended his first ScienceWriters conference last year—our first virtual meeting during the pandemic. In a workshop on mental health, attended by some 200 people, he recognized a desire for additional support and new ways to address the ongoing mental health needs of science writers," Adams said. Andrew offered to set up a virtual community or support group, which turned into regular online chats called #SciWriThrive. He saw a need, he came up with a plan, and he made the thing come to life."
Since May, Meissen and fellow member Erin Ross have hosted the semi-monthly chats, and together with member Ellen Kuwana, Meissen earned an Idea Grant to offer a Creativity and Pandemic Recovery Workshop for science writers. He was also a speaker in a #SciWri21 session about creating community through virtual coworking opportunities.
NASW member Louis Lerner, who passed away in 2006, established the McGurgan Award in 2001 in honor of NASW's longtime former executive director, Diane McGurgan. Recipients receive a $500 award.
With more than 200 active volunteers annually, NASW relies on the energy and enthusiasm of members to help shape programming, lead or contribute to projects and programs, or run for the board. Learn more and get involved.
Hero image by Erwan Hesry on Unsplash.