By Ben Young Landis
A residential clubhouse for those with mental illnesses seeking to regain their footing. A Louisiana coastline where Indigenous residents and local fishers stand amid sea level rise, hurricanes, and a gargantuan engineering project. A nation's ever-rising research and development ecosystem that still deters transgender, non-conforming, and non-binary trainees and professionals.
Bolstered by a Diversity Reporting Grant from the National Association of Science Writers, three freelancers took time this past year to immerse themselves in these communities and perspectives. Launched in 2020 during the rise of the COVID-19 pandemic, the NASW Diversity Reporting Grant was created to support freelance science writers specifically to offset any challenges securing work during uncertain times and added stressors.
The program's most recent grantees Duy Linh Tu, Andrew Meissen, and Sayantan Datta recently filed their communiques on how the NASW support has furthered their journalistic ventures. It is fitting that with this funding, all three grantees have lent their talents and energies to highlight vulnerable peoples struggling against uncertainty and great challenges.
Coast Conundrum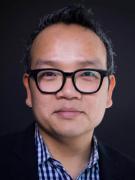 Duy Linh Tu
A documentary filmmaker and professor at the Columbia University Graduate School of Journalism, Duy Linh Tu leveraged his NASW funding to continue his short film series centered around the Pointe-Aux-Chien Indian Tribe and other community members in coastal Louisiana wrestling with lost shorelines, slipping livelihoods, and a tangle of past legacies, present policies, and engineering dilemmas.
"I had originally intended to spend a few weeks in the delta, produce a short film for Scientific American magazine, and then move on," Duy Linh Tu reported. "But, like the issue of climate change itself, this story became more complicated the longer I spent in the area."
Following his 2021 documentary short The Last Holdouts (also featured at a ScienceWriters2021 conference session on science communication through filmmaking), Duy Linh Tu assembled support from NASW, the Economic Hardship Reporting Project, the Pulitzer Center, and the Knight Science Journalism Fellowship Program to produce "Louisiana's $2-Billion Gamble: Flood the Land to Save the Coast", another story package for Scientific American. The accompanying film can be watched on YouTube.
Duy Linh Tu said the NASW grant was particularly meaningful to him because so much of documentary filmmaking and enterprise reporting is about time spent on the ground. "Every thousand dollars raised is another trip to the gulf, to slowly and purposefully report on the community there."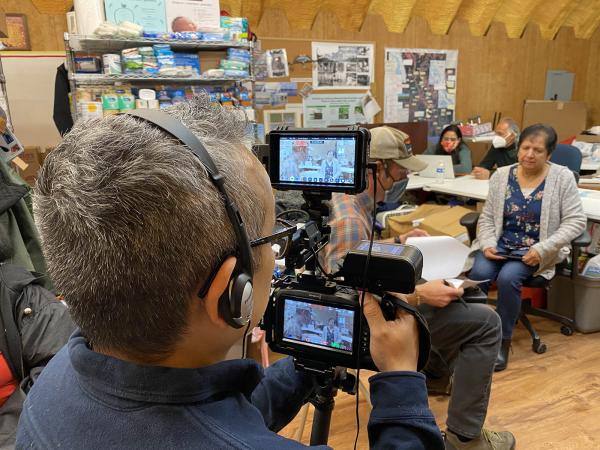 Duy Linh Tu on assignment. (Image Credit: Duy Linh Tu)
Springing Eternal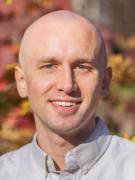 Andrew Meissen
A freelance journalist exploring the intersection of neuroscience, technology, and mental health, Andrew Meissen applied his NASW funding towards a deeply personal project: a narrative weaving his own wellness journey with a feature profile of the Fountain House — a direct services program in New York City serving individuals with serious mental illnesses.
Published this May in The Xylom, "In Hell's Kitchen, a Fountain of Hope" takes readers on a first-person view of the "clubhouse model" for social practice therapy in the group environment. "I'm grateful to have reported on Fountain House; I experienced a catharsis I sought for years. I didn't intend that. But how I experienced that catharsis is congruent with the lesson I learned about my reporting," Andrew Meissen told us in his briefing.
"It's complicated to report a personal essay about the influence of an organization-in-progress on yourself — [when you're also] a work-in-progress," Andrew added. "My finishing the essay coincided completely with my self-acceptance, because my self-acceptance enabled me to see things exactly as they were: what is now, what is new, is inherently unfinished. I've learned that stories rest more strongly on questions than answers; but for a reported personal essay, I was surprised for self-acceptance to play a major role in my ability to do that."
It should be noted that throughout this journey, Andrew Meissen continued to give back to the science writing community, having launched and helped host the #SciWriThrive virtual wellness meetup series for NASW members over many months.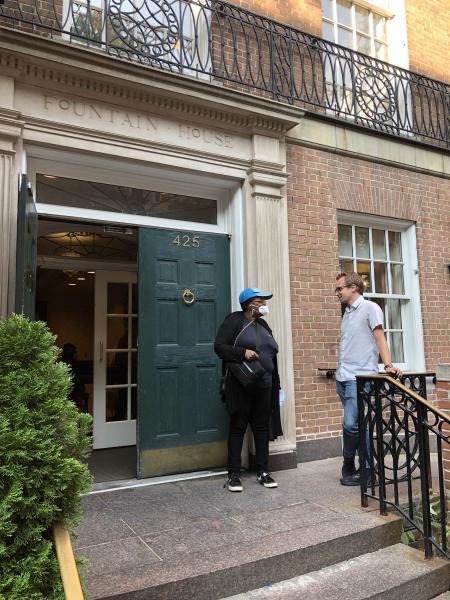 Neelise (left), a Fountain House member, talks with Andrew Meissen on the doorsteps of Fountain House's Manhattan building in New York City. (Image Credit: Andrew Meissen)
Ceilings and Doorways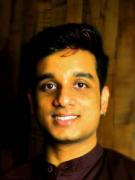 Sayantan Datta
A faculty member at Krea University in Andhra Pradesh, India, and a science journalist, Sayantan Datta used their NASW funding to launch an investigation on where transgender, gender non-conforming, and gender non-binary persons stand in India's science ecosystem. "What issues prevent their assimilation into Indian science, and what changes in science practice would enable transgender people to pursue science education in India?" was the central inquiry to their project.
Sayantan Datta's reporting — which is currently available to interested media outlets for publication — took them through public information requests with universities and government institutions as well as interviews with research administrators and campus leaders. They spoke with transgender, gender non-conforming, and gender non-binary persons in the sciences for firsthand accounts on the lack of gender sensitization, a general apathy for inclusive science education and practice, and a paucity of policy-level and structural interventions addressing gender inclusion. (The first of Sayantan's efforts were just published as of this story's posting. Read their new article in The Wire Science of India.)
"Questions of diversity, inclusion, equity, and access have eluded the interest of mainstream science journalism in India, and I am grateful to the NASW for supporting my endeavor enthusiastically," Sayantan Datta wrote in their grantee summary. "Professionally, receiving the funding has meant that my work — which lies at the intersection of science and society — is taken more seriously by both practicing journalists and scientists."
But the NASW funding also opened other doors. As Sayantan Datta added: "On a personal front, receiving the grant enabled me to connect with other transgender, gender non-conforming, and gender non-binary persons in Indian science — making this project not just a reporting exercise, but also an exercise in building communities."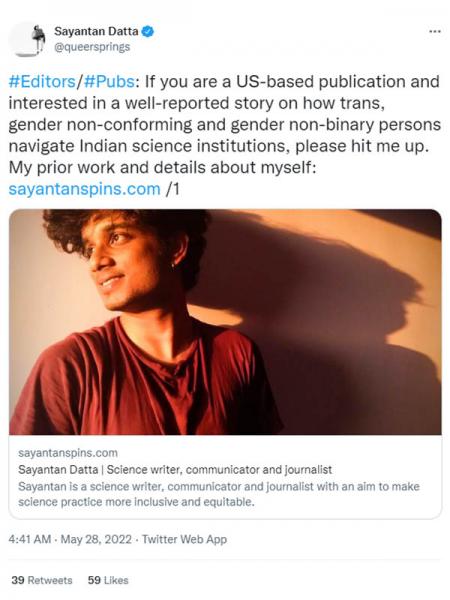 Sayantan Datta has used Twitter as a tool to reach audiences, sources, and publishers in his reporting. (Image Credit: Sayantan Datta/Twitter)



Ben Young Landis is NASW's assistant executive director and serves as its print and digital content editor.
NASW members interested in supporting the Diversity Reporting Grant can volunteer to serve on the NASW Diversity Committee. To learn how, visit nasw.org/volunteer for current listings and opportunities. And find out more about NASW's growing programs sustaining talented colleagues and untold stories at nasw.org/awards/diversity — including the upcoming call for proposals for the next cycle of our NASW Diversity Reporting Grant.