The National Association of Science Writers and its Education Committee have published their latest Student Newsroom and announced their three Summer Writing Awards winners — marking the conclusion of the 2023 NASW Perlman Virtual Mentoring Program.
Named in honor of former NASW president and renowned science journalist David Perlman, the virtual mentoring program was created in 2020 during the COVID-19 pandemic, aiming to provide science writing learning opportunities for undergraduate and graduate students amid disruptions to available summer internships.
After taking a pause in 2022, the program returned this summer with more than 65 students matched with NASW member volunteers from a variety of science writing backgrounds for mentorship and support. Mentors and students met for a 75-minute kickoff event on June 28. About 40 students also opted to write a reported piece with guidance from their mentors.
Completed student pieces are now published in the program's 2023 Student Newsroom, offering students a published clip for their budding portfolio — for some, their first-ever reported-and-edited story. Additionally, NASW Education Committee volunteers worked with students and mentors to pitch their completed works to editors at media outlets for acceptance; other students took on the pitching process on their own. Science media outlets that accepted and published Perlman student stories this summer include Sky and Telescope, The Xylom, Mongabay, Scientific American, and the American Geophysical Union's Eos magazine.
All student-produced stories were considered for the NASW Summer Writing Award, which comes with a $500 prize. Read by a panel of editors and writers volunteering their time as NASW members, the student entries were judged in two rounds for clarity, style, story structure, diversity of sources, and effective use of quotes and data.
The 2023 NASW Summer Writing Award winners are:
Christina Nowicki of Rush University (Mentor: Haley Wasserman, Johns Hopkins Medicine) for the story "Rhapsody in blue soup — how the Blue Soup Saga captivated Twitter". Our judges wrote: "The author has a nice voice here and does a good job with presenting the information" and, "enjoyed reading this article as the 'blue soup mystery' was a terrific draw for the audience." (Read this story in the 2023 Student Newsroom)

Anavi Uppal of Yale University (Mentor: Alexandra Witze, Freelance) for the story "These scientists are using a giant kite to study solar eclipses". Our judges wrote: "This is an incredibly well-written and expressive article. Thoroughly enjoyed reading it as the author's style is engaging and highly understandable. A true treat!" (This story is currently awaiting final review ahead of pitching to outside outlets)

Mackenzie White of Planetary Science Institute (Mentor: Saima Sidik, Freelance) for the story "Plastic-ridden plankton are poisoning gray whales". Our judges wrote: The writing style and information flow can pull the reader into the topic" and, "the author did a good job of setting up the story for the conclusion that the article reaches." (Read this story in the 2023 Student Newsroom)
The 2023 NASW Perlman Virtual Mentoring Program was produced by the NASW Education Committee, with committee co-chair Czerne Reid (University of Florida), committee co-chair Ashley Yeager (Science News), and Perlman Program coordinator Courtney Gorman (Texas A&M University). Committee members Berly McCoy (freelance) served as external publications liaison, and Deanna Csomo Ferrell (University of Notre Dame) served as Summer Writing Awards judging coordinator.
NASW and the Perlman Program organizers share effusive thanks to the nearly 70 NASW members who took the time to serve as mentors and/or editors, sharing their enthusiasm and knowledge to support up-and-coming science writers. Find the list of 2023 Perlman Program member volunteers on this page — and join NASW in also thanking the science writing colleagues below for their support of the 2023 program:
NASW Members Volunteering as Summer Writing Awards Judges
Brett Beasley
Rachel Butch
Merrik Bush
Vanessa Chan
Anne Connor
Shel Evergreen
Meredith Fore
Courtney Gorman
Lydia Hall
Paige Jarreau
Alan Kolok
Velshonna Luckey
Beth Miller
Lisa Munoz
Michael Newman
Amy Ellis Nutt
Kelly Quigley
Elliot Richman
Shari Rudavsky
Brontë Spencer
Julie Summers Walker
Chanapa Tantibanchachai
Publication Editors Reviewing Pitches by Perlman Students
Sophie Bushwick
Erik Hoffner
Alex Ip
Jack Leeming
Caryl-Sue Micalizio
Jennifer Schmidt
Monica Young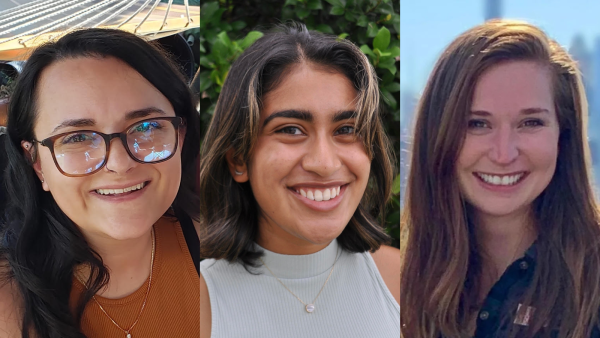 L-R: 2023 NASW Summer Writing Awards winners Christina Nowicki, Anavi Uppal, and Mackenzie White. (Courtesy of awardees)
---
The NASW Perlman Virtual Mentoring program is named for longtime science writer and past NASW President David Perlman. Dave, who died in 2020 at the age of 101 only three years after his retirement from the San Francisco Chronicle, was a mentor to countless members of the science writing community and always made time for kind and supportive words, especially for early career writers.
Founded in 1934 with a mission to fight for the free flow of science news, NASW is an organization of ~ 2,800 professional journalists, authors, editors, producers, public information officers, students and people who write and produce material intended to inform the public about science, health, engineering, and technology. To learn more, visit www.nasw.org and follow NASW on LinkedIn.