For complete SIS and EIWA entry guidelines and entry portal links, visit:
- nasw.org/scienceinsociety
- nasw.org/excellence
The National Association of Science Writers and its Awards Committee once again welcome entries for its Science in Society (SIS) Journalism Awards and its Excellence in Institutional Writing Awards (EIWA). Each year, these #SciWriAwards recognize some of the best works in science journalism and science writing, as judged by fellow science journalists and science writers. NASW presents these awards without subsidy or sponsorship from any professional or commercial interest.
Deadline to enter is Feb. 1, 2023. Works nominated must be written or produced in English, intended for the non-specialist, and first published or broadcast in North America between Jan. 1, 2022, and Dec. 31, 2022. All NASW awards strive to showcase timely coverage and exemplary work, particularly those by underrepresented creatives tackling diverse, overlooked issues and communities. Judges especially consider diversity in topics, sources, audience, and authors to be a critical component of excellence.
Nominations are not limited to NASW members — all media professionals are encouraged to submit entries on behalf of themselves, peers, colleagues, or mentees. Entries fees are waived for NASW members; additionally, we invite members of the following organizations to enter either contest free of charge:
About our NASW awards:
NASW Science in Society Journalism Awards
First awarded in 1972, the NASW Science and Society (SIS) Journalism Awards were established to recognize investigative or interpretive reporting about the sciences and their impact on society, intended to encourage critical, probing work that would not receive an award from an interest group. The annual SIS honors have highlighted innovative reporting shaped by a diverse variety of perspectives — going well beyond the research findings and considering the associated ethical problems and social effects. SIS categories include Books, Science Reporting, Science Features, Longform Narratives, Series, and Commentary. The winner or winning team for each category receives a $2,000 prize.
Explore past SIS winners and finalists at: https://www.nasw.org/awards/sis
NASW Excellence in Institutional Writing Awards
First awarded in 2018, the NASW Excellence in Institutional Writing Awards (EIWA) were established to recognize high-caliber publicly accessible science writing produced on behalf of an institution or other non-media organization — including campuses, government agencies, nonprofits, and others. EIWA offers a Short-Form and Long-Form category for entries; the winner or winning team for each category receives a $2,000 prize.
Explore past EIWA winners and honorable mentions at: https://www.nasw.org/awards/excellence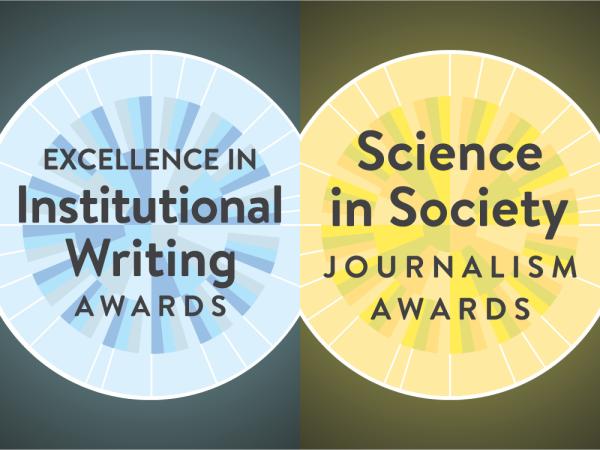 ---
The annual NASW Science in Society Journalism Awards and NASW Excellence in Institutional Writing Awards competitions are managed by the NASW Awards Committee, a group of accomplished professionals who volunteer their time on behalf of the field. This year, the committee is chaired by Jill Sakai and Aparna Vidyasagar, and NASW thanks them and the entire Awards Committee volunteer team and judges for their service. For awards program questions, please email co-chairs Aparna Vidyasagar and Jill Sakai at awards@nasw.org
Founded in 1934 with a mission to fight for the free flow of science news, NASW is an organization of ~ 2,700 professional journalists, authors, editors, producers, public information officers, students and people who write and produce material intended to inform the public about science, health, engineering, and technology. To learn more, visit www.nasw.org