By Sandeep Ravindran
It's hard to believe another ScienceWriters annual meeting is just around the corner! Registration for ScienceWriters2023 will open in August, and before you know it, we'll all be back together — whether you choose to join us just for our virtual program, or also the in-person program in Colorado.
And as we navigate these past few difficult years, NASW is taking special care to welcome first-time attendees, plus anyone else who is just venturing out to connect with our science writing community and our annual meeting.
Earlier this year, the NASW Board had the idea to create formal Conference Welcome Coordinator positions — volunteers who could bring their recent first-hand experience of being first-time attendees — to revisit and reimagine our conference welcome resources. We specifically looked for NASW members who have attended fewer than three conferences, or attended their first meeting within the last five years.
With that, we're so pleased to introduce your Welcome Coordinators for #SciWri23:
Erin Rode
The Desert Sun is a local daily newspaper serving Palm Springs and the surrounding Coachella Valley in California, and Erin has been their environment reporter since 2021. SciWri22 in Memphis was Erin's first ScienceWriters meeting, made possible through a National Science-Health-Environment Reporting Fellowship (SHERF) from CASW, AHCJ, and SEJ. Follow Erin on Twitter at @RodeErin.
Angel Kumari
Angel joined NASW in 2022, attending SciWri22 in Memphis courtesy of a CASW New Horizons Travel Fellowship. Angel recently graduated from Clemson University and will be an incoming graduate student at the Johns Hopkins University Science Writing Program. She is currently interning at the NASA Goddard Space Flight Center with funding from our NASW Diversity Summer Fellowship. Follow Angel on Twitter at @akumsss.
Angel and Erin have been working with me and the NASW Programs Committee on reviewing our virtual and in-person experiences to come up with new offerings designed to welcome first-time attendees. Their recent brainstorm has already yielded some fun ideas. Under consideration are:
Ahead of the Colorado meeting, giving newcomers to the meeting the option to be matched with other first-time attendees for conversation and support
Organizing a Whova group chat for first-time attendees
Organizing a virtual kickoff event and meet-and-greet
At the Colorado meeting, organizing an informal "fresh faces" meetup for first-time attendees at the start of the conference, with icebreakers and a chance to connect with other first-time attendees.
Organizing a debrief event towards the end of the conference, to give first-time attendees a chance to regroup and talk about their favorite sessions and big takeaways from this year's conference.
We are ever grateful for the energy and ideas that Erin and Angel are bringing to the table to help cultivate our professional community. So we hope to see you this fall, colleagues, online and in Colorado!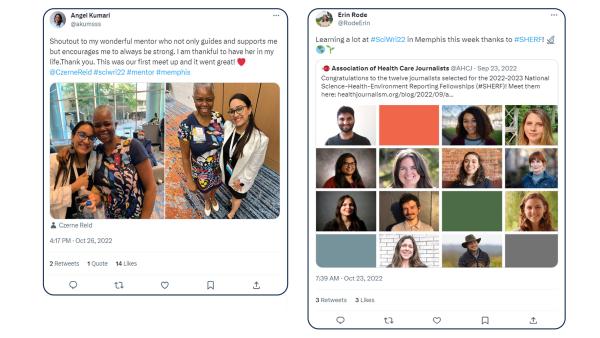 Screenshots of Angel Kumari's and Erin Rode's Twitter posts in 2022 cheering on their first time attending a ScienceWriters meeting. (Angel Kumari/Erin Rode/Twitter)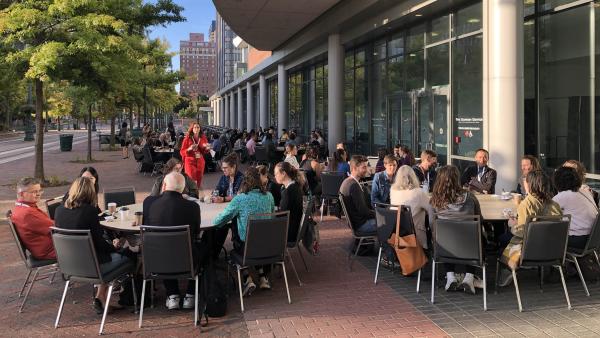 The 2023 Conference Welcome Coordinators will build on past efforts, such as this first-time attendees breakfast social hosted at ScienceWriters2022 in Memphis. (Ben Young Landis/NASW)
---
Sandeep Ravindran is the vice president of NASW and the chair of the NASW Programs Committee. A freelance science journalist with bylines in New York Times, TIME, Smithsonian, National Geographic News, Nature, WIRED, and other outlets, Ravindran is serving his third term on the NASW board, having served as NASW treasurer for the past two years and NASW secretary before that. Additionally, Ravindran has helped organize the Power Pitch and Pitch Fest events at several NASW annual meetings — and as NASW vice president, he assumes the role of Programs Committee chair to curate ScienceWriters2023 and ScienceWriters2024 annual meetings.
NASW members interested in supporting the NASW-CASW annual meetings can volunteer to serve on the NASW Programs Committee. Visit www.sciencewritersmeeting.org to explore past programs from ScienceWriters meetings, and bookmark www.sciencewriters2023.org for news and announcements for the 2023 conference.
Held each year, the ScienceWriters conferences provide a gathering place for professionals and students working across the science news landscape. From journalists to institutional writers, from editors to producers, from seasoned science communicators to those exploring science and technology beats, from mentors to students, the events provide opportunities for skills development, new tools practice, professional networking, and topic debates for every attendee.
A co-production of the National Association of Science Writers (NASW), the Council for the Advancement of Science Writing (CASW), the University of Colorado Boulder, and the University of Colorado Anschutz Medical Campus, ScienceWriters2023 continues this tradition with craft and career workshops organized by NASW members, New Horizons in Science briefings curated by CASW, plus receptions and tours in Colorado hosted by CU Boulder and the CU Anschutz Medical Campus. Follow #SciWri23 to join the conversation.