Registration has opened for the ScienceWriters2023 annual conference. A co-production of the National Association of Science Writers (NASW), the Council for the Advancement of Science Writing (CASW), the University of Colorado Boulder (CU Boulder), and the University of Colorado Anschutz Medical Campus (CU Anschutz), the conference will offer sessions online and in-person. Online programming begins Sept. 26, and in-person programming will be held Oct. 6-10. All event and registration information can be found at www.sciencewriters2023.org
Held annually, the ScienceWriters conferences provide a gathering place for professionals and students working across the science news and communications landscape. From journalists to institutional science writers, from editors to producers, from seasoned science communicators to those just starting their careers, the events provide opportunities for every attendee, be it skills development, professional networking, and discussions on pressing scientific topics. #SciWri23 continues this tradition with craft and career workshops organized by NASW members; New Horizons in Science briefings curated by CASW; along with receptions and interactive tours in the Front Range and metro Denver region hosted by CU Boulder and CU Anschutz.
ScienceWriters conference host sites rotate across U.S. cities and institutions. Colorado was originally scheduled as the 2020, then 2021 conference site, with both events converted to virtual-only due to the severity of the COVID-19 pandemic. Fall 2023 will finally see science writers from around the United States and the world immersed in the cultural and natural beauty of the region — the ancestral homelands and unceded territory of Indigenous Nations, including the Hinono'eiteen (Arapaho), Tsétsėhéstȧhese (Cheyenne), Núuchiu (Ute), Di De'i (Apache), Nʉmʉnʉʉ (Comanche), Caiugu (Kiowa), Čariks i Čariks (Pawnee), Sosonih (Shoshone), and Oc'eti S'akowin (Sioux).
To center Indigenous community issues and in acknowledgement of Indigenous Peoples Day on Oct. 9, SciWri23 will include an NASW plenary plus documentary film preview organized by the Indigenous Journalists Association, plus another NASW plenary on science reporting in and on issues affecting Indigenous communities. CASW events will include a plenary on knowledge co-production and natural resource co-management in the Arctic, plus discussions of Colorado River water issues. CASW and NASW have joined with the Centers for American Indian and Alaska Native Health at CU Anschutz to organize a dialogue with local Indigenous leaders on covering Native health issues.
Other onsite events in Colorado will include the joint NASW-CASW #SciWriAwards ceremony, plus favorites including the NASW #SciWriPitchSlam and #SciWri4Hire career encouragement events, and the CASW Patrusky Lecture and many New Horizons science sessions.
In addition, CU campus hosts have organized tours of labs and innovation projects at the CU Boulder and CU Anschutz campuses; and added "Hike with a Scientist" to the perennially popular "Lunch with a Scientist" offerings. Attendees will have the option of spending a day at the Anschutz campus, where programming will include the Native health dialogue, a workshop on reporting with electronic health records, and other sessions curated for writers covering medicine and health.
The CU campus hosts have also organized a plethora of hand-crafted field trips to learn about topics such as wind energy, weather prediction, precision measurements, Earth science, high-altitude ecology, and even the quirky properties of quantum physics. Attendees will have the opportunity to visit local federal labs including the National Oceanic and Atmospheric Administration (NOAA), the National Institute of Standards and Technology (NIST), the National Renewable Energy Laboratory (NREL), and the National Center for Atmospheric Research (NCAR) Mesa Lab. In addition, attendees can choose to visit the CU Boulder Mountain Research Station and Niwot Ridge Long Term Ecological Research or one of our sponsoring local organizations, Atom Computing.
Ahead of Colorado, SciWri23 will open with a slate of virtual sessions beginning Tuesday, Sept. 26. These online workshops will cover topics such as artificial intelligence and journalism; popularizing mathematics; improving newsroom internships; and equity and justice best practices for editors. For both online and onsite portions of SciWri23, attendees can access the event's Whova app for all session details, message boards, and speaker and attendee bios and contact information.
Conference attendance assistance grants are available through NASW and CASW, with applications due Aug. 10. Early registration rates expire on Aug. 31, but members of AAJA, NABJ, NAHJ, IJA (NAJA), NLGJA, SACNAS, SAJA, Trans Journalists Association, the Uproot Project, and SACNAS. are eligible to register at the NASW member rate throughout the registration period — which concludes Sept. 26.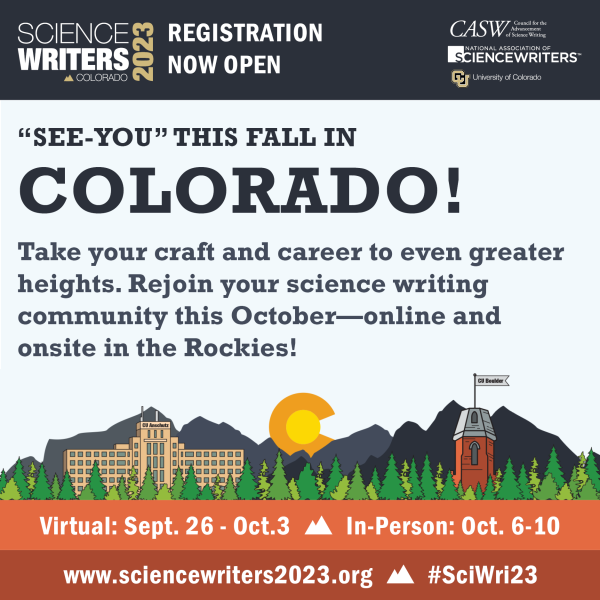 ---
About the National Association of Science Writers
Founded in 1934 with a mission to fight for the free flow of science news, NASW is an organization of ~ 2,600 professional journalists, authors, editors, producers, public information officers, students and people who write and produce material intended to inform the public about science, health, engineering, and technology. To learn more, visit www.nasw.org
About the Council for the Advancement of Science Writing
The Council for the Advancement of Science Writing is committed to improving the quantity and quality of science news reaching the public. Led by a board of directors composed of senior journalists and others committed to excellence in the communication of science, CASW develops and funds programs to help reporters and writers produce accurate and informative stories about developments in science, technology, medicine and the environment. Sixty years after its founding in 1959, CASW adopted a new focus on the quality, diversity and sustainability of science journalism, in response to the challenges facing the field in the 21st century. Visit www.casw.org to learn more.
About the University of Colorado Boulder
At the foot of the Rocky Mountains, the University of Colorado Boulder is nationally recognized as one of only 38 AAU public research universities. Established in 1876, CU Boulder is a Tier 1 public research university with five Nobel laureates, nine MacArthur fellows and is the No. 1 public university recipient of NASA awards. CU Boulder is a leader in many fields, including aerospace engineering, earth and environmental science, physics and environmental law. The school partners with many notable federal research labs, including the National Oceanic and Atmospheric Administration (NOAA), the National Institute of Standards and Technology (NIST) and the National Renewable Energy Laboratory (NREL). For more information, visit www.colorado.edu/research
About the University of Colorado Anschutz Medical Campus
The University of Colorado Anschutz Medical Campus is a world-class medical destination at the forefront of transformative science, medicine, education and patient care. The campus encompasses the University of Colorado health professional schools, more than 60 centers and institutes, and two nationally ranked independent hospitals — UCHealth University of Colorado Hospital and Children's Hospital Colorado — that treat more than two million adult and pediatric patients each year. Innovative, interconnected and highly collaborative, the University of Colorado Anschutz Medical Campus delivers life-changing treatments, patient care and professional training and conducts world-renowned research fueled by over $690 million in research grants. For more information, visit www.cuanschutz.edu.