Story by Robin Donovan
Photography by Casey A. Cass
Two science journalists nabbed prestigious awards for very different stories, but both faced the challenge of investigating the internet's dark corners to do it.
At "The Story Behind the Story: Behind the Scenes of Award-Winning Writing" (#SciWriBTS) — a special session at the ScienceWriters2023 national conference — Maryn McKenna and Ashley Smart shared a stage to discuss the research, tough decisions, and occasional controversy that led to their winning articles. NASW members Christie Aschwanden and Siri Carpenter organized the session, which took place on the University of Colorado Anschutz Medical Campus.
Each writer, in part, analyzed how science is interpreted and absorbed in society. Smart's long-form narrative — "A Field at a Crossroads: Genetics and Racial Mythmaking" — won a 2023 NASW Science in Society Journalism Award after its publication in Undark, where Smart is a senior editor. The article details the 2022 murder of Roberta Drury at a supermarket in Buffalo, N.Y., by a shooter who also authored a racist manifesto. The murder is a clear example of science misused for racist purposes, a problem Smart observed in the wake of the 2020 murder of George Floyd.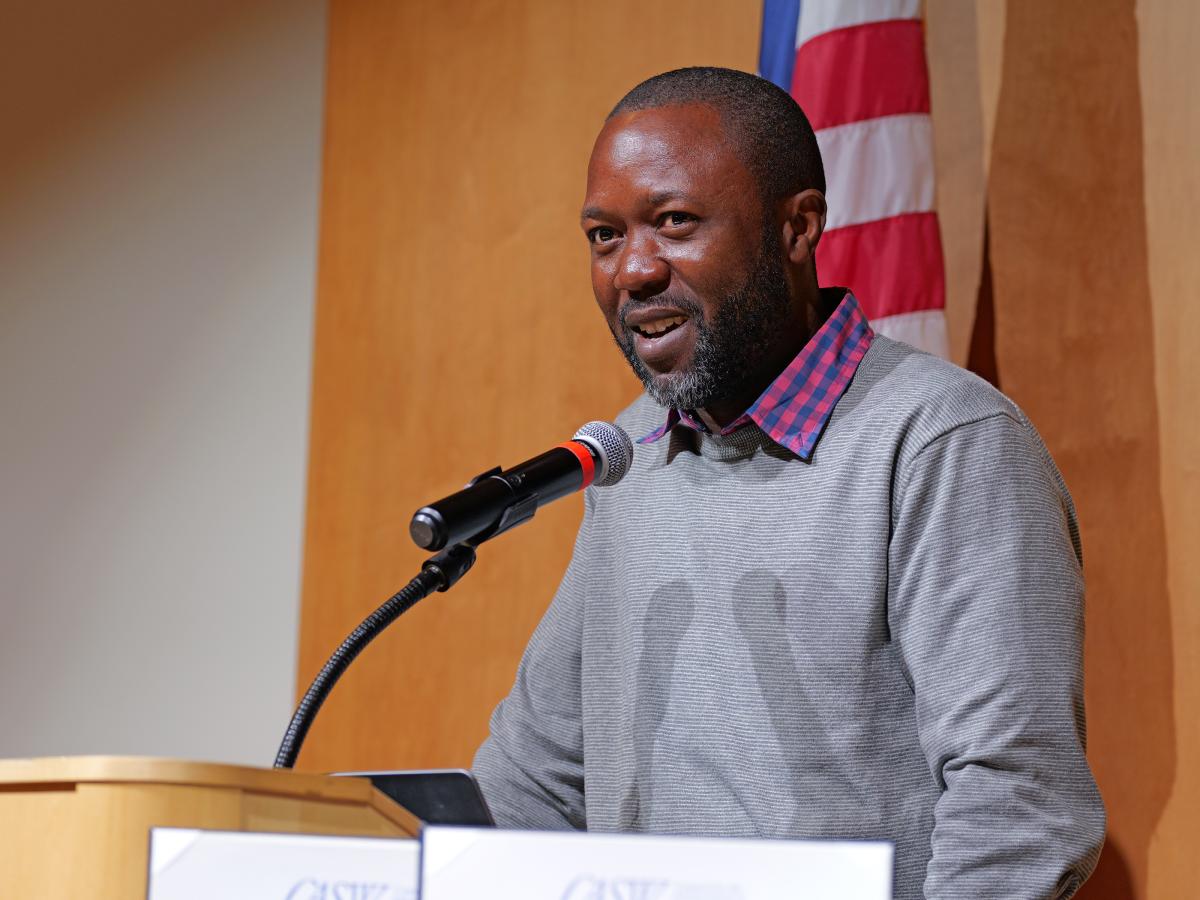 Journalist Ashley Smart delivers his acceptance speech for the NASW Science in Society Journalism Award - Longform Narratives Category during the ScienceWriters2023 awards luncheon in Boulder. (Casey A. Cass/CU Boulder)
"I was bumping up against questions that science couldn't answer," Smart said. He gathered examples of misapplied genetics research but ultimately excluded them in favor of the Buffalo shooting vignette, a more evocative example. After poring over 4chan forums to understand where scientific concepts in the Buffalo shooter's manifesto originated, Smart knew the story could become a political landmine. He relied on staff roundtables and his own "instinct for fairness" to weigh sources and potential angles for the story.
Ultimately, the story confronts both racially motivated violence and a murkier scientific issue. "The genetics research community [is] grappling with the misuse and appropriation of its research," Smart said. Rather than simply pointing at racism's link to violence, Smart dug into the misapplied genetics used to fuel that hate.
McKenna earned the 2023 CASW Victor Cohn Prize for Excellence in Medical Science Reporting for a body of work that included the New Republic piece "The Plague Years: How the Rise of Right-Wing Nationalism Is Jeopardizing the World's Health". Written and published before the COVID-19 pandemic, the article links political extremism to public health dangers.
"Those who write about infectious disease had been saying a pandemic was coming," McKenna said when moderators Aschwanden and Carpenter asked how she managed to warn of a pandemic fueled by right-wing politics just before COVID-19 struck. "I'd never be grateful for the pandemic," she added, "But it did prove our point."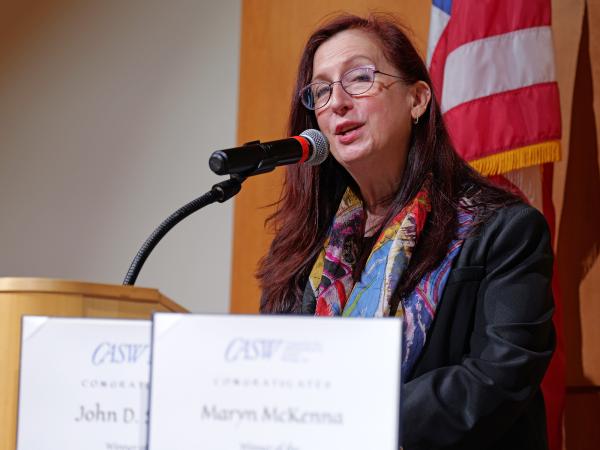 Journalist Maryn McKenna delivers her acceptance speech for the CASW Cohn Prize during the ScienceWriters2023 awards luncheon in Boulder. (Casey A. Cass/CU Boulder)
McKenna sifted through social media for compelling details and found that covering politics required a constant eye on current events. "I felt as though I was constantly racing to keep up with the news," she said. Despite the occasional horrors of hateful social media threads, McKenna was able to outline the faulty science behind discriminatory ideas, such as the concept that an increase in immigration can bring disease (it doesn't) and the consequences of political vitriol that encourages pseudoscientific beliefs.
Both writers stressed the importance of a supportive team, whether staff, colleagues, or editors. Group discussions helped Smart vet his ideas and process his emotions while combing the dark web. McKenna noted that editors who value a writer's whole self, including their psychological health, are crucial to the strenuous efforts behind award-winning work. She recently turned down an editor's request for a new story about the COVID-19 pandemic, citing her well-being.
But as someone who once watched award presentations as an early career writer and thought she'd "never get there," McKenna also shared one hope: "The resources to do these stories are accessible to everyone, sooner or later."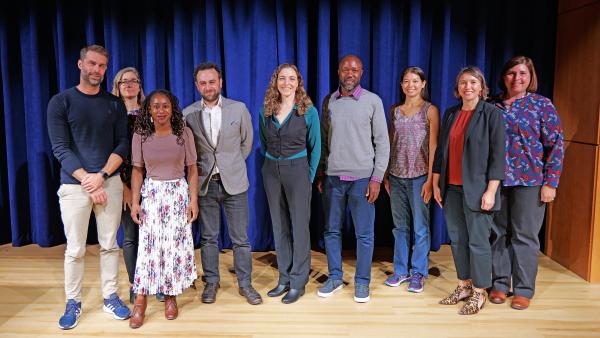 Ashley Smart (fourth from right) joins fellow NASW awardees and NASW volunteers on stage after the ScienceWriters2023 awards luncheon in Boulder. (Casey A. Cass/CU Boulder)
---
Robin Donovan (robinkd.com) is an independent journalist in Portland, Ore., where she covers life sciences and oceans.
This ScienceWriters2023 conference coverage article was produced as part of the NASW Conference Support Grant awarded to Donovan to attend the ScienceWriters2023 national conference. Find more 2023 conference coverage at www.nasw.org
A co-production of the National Association of Science Writers (NASW), the Council for the Advancement of Science Writing (CASW), University of Colorado Boulder, and the University of Colorado Anschutz Medical Campus, the ScienceWriters2023 national conference featured an online portion Sept. 26-Oct. 3, followed by an in-person portion held in Boulder and Anschutz, Colo., Oct. 6-10. Learn more at www.sciencewriters2023.org and follow the conversation on social media at #SciWri23
Credits: Reporting by Robin Donovan; edited by Ben Young Landis. Photography by Casey A. Cass courtesy of University of Colorado Boulder; edited by Ben Young Landis.