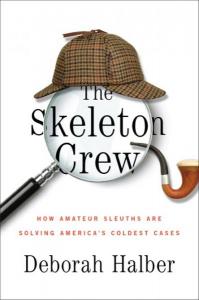 THE SKELETON CREW: HOW AMATEUR SLEUTHS ARE SOLVING AMERICA'S COLDEST CASES
Deborah Halber
Simon & Schuster, July 1, 2014, Hardcover: $18.48, Kindle: $10.99
ISBN-10: 1451657587
ISBN-13: 978-1451657586
Halber reports:
In 2009, I pitched a biography of D. Carleton Gajdusek, who in the 1950s had identified a new brain disorder, one of the first recognized prion diseases. I was lucky enough to hear back from several agents. I chose one, who was shopping the proposal around, when it came to light that Gajdusek — a Nobel laureate — was a serial pedophile!
The book wouldn't fly the way I had envisioned it. I was disappointed — to put it mildly — to be sitting on a mountain of unusable research. The good news was I had an agent, and I had figured out how to pull together a compelling nonfiction proposal.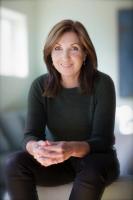 Deborah Halber, photo by Margaret Lampert
When I came across details of a 1974 murder victim who had never been identified, shocking statistics about unidentified human remains, and amateur sleuths who had successfully matched the missing and the unidentified, I switched gears. My background as a reporter helped me zero in on the topic's news value, a little-known national issue, and interviewees — unlike Gajdusek — who were sympathetic heroes.
In 2010, my agent sold a narrative nonfiction pitch about a quirky Internet subculture of ordinary people who solve cold cases to Simon & Schuster, and THE SKELETON CREW was born.
Looking back, I goofed up: I sent the Gajdusek pitch to multiple agents at once (frowned upon, although more time-effective for the writer). I underestimated the amount of time I'd spend rewriting and editing (a year), and the amount of luck it would take for a first-time author without a platform to land in such capable hands (a lot).
In the end, being flexible and professional and trusting the skill and instinct of my amazing editor, Sarah Knight, allowed me to deliver a book the Wall Street Journal called "brilliant" and chronicled "with lucidity and wit." The journey from impersonal biographer to first-person narrator — which at first made me panic — turned out to be a blast.
Contact info:
Buy this book now in the ScienceWriters bookstore.
———————————
NASW members: Will your book be published soon? Take advantage of this opportunity for shameless self-promotion.
Tell your fellow NASW members tell how you came up with the idea for your book, developed a proposal, found an agent and publisher, conducted research, and put the book together. Include what you wish you had known before you started working on your book, or had done differently.
See https://www.nasw.org/advance-copy-submission-guidelines.
Send info and images to Lynne Lamberg, NASW book editor, llamberg@nasw.org.