Advance copy: Backstories on books by NASW members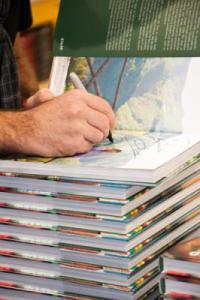 NASW Authors: Will your book be published soon? Tell your fellow NASW members how you reached this happy state.
Submission guidelines:
View Advance Copy archives for tone and style. Please format your report in the same style as other Advance Copy reports.
Follow the outline below to submit information for Advance Copy, which appears online and in ScienceWriters Magazine. Send your report, images, and a review copy of your book about a month before your book's publication date.
Book Title
Author(s) (If more than one author, indicate which ones are NASW members.)
Publisher, publication date, price
ISBN 10 and ISBN 13 (We need both to link your book to the NASW bookstore). Also include epub info.
First person report telling what your book is about and how you produced it. Please limit your report to 350 words maximum. We adhere strictly to this limit to be fair to all NASW authors. Please answer these queries: What sparked the idea for your book? How did you develop your proposal, find an agent and publisher, fund and conduct research, and put the book together? If you chose to self-publish, how did you find help you needed to accomplish that? What do you wish you had known before you started working on your book? What might you have done differently? What advice do you have for aspiring authors?
Your phone number, email address, website URL, blog website, Twitter username
Book website
Publicist's name, phone number, and email address
Agent's name, phone number, and email address
Headshot of you: 600 x 800 pixel minimum jpg file. Please provide a photo that faces forward or slightly to the left. These views look better in the Advance Copy layout. Send a jpg as an attachment, not a link.
Image of your book's front cover, 600 x 800 pixel minimum jpg file. Send a jpg as an attachment, not a link.
Send your report and jpg images to Lynne Lamberg, NASW book editor, llamberg@nasw.org.
Send a review copy of your book to the address below. I need it to write a blurb for your book on the NASW homepage, NASW email lists, and Twitter.
Lynne Lamberg NASW Book editor
1 Gristmill Ct., #501, Baltimore MD 21208-1348
Follow @LynneLamberg for NASW book news.
Last reviewed April, 15, 2021.
Hero image by congerdesign from Pixabay