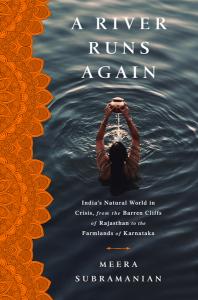 Cover: Meera Subramanian: A River Runs Again
A RIVER RUNS AGAIN: INDIA'S NATURAL WORLD IN CRISIS,
FROM THE BARREN CLIFFS OF RAJASTHAN
TO THE FARMLANDS OF KARNATAKA
Meera Subramanian
PublicAffairs, August 25, 2015, $26.99
ISBN: 9781610395304
Subramanian writes:
It began in a dark corner of an Irish bar in NYC, when someone casually mentioned something about vultures going extinct in India. With an interest in conservation, raptors, and my father's native India, I began to investigate. What I discovered was a larger story about conservation, religion, cultural mores, feral dogs, and Parsi carcasses.
A few small stories led to a feature in the Virginia Quarterly Review, which surprised me with a great response and a couple of awards. If readers were interested in this most uncharismatic of species, I thought they might take interest in an even larger story about India's environment that had been simmering for years.
As momentum built around the vulture story, India was gaining attention as a rising global player, even as large swaths of her population struggled for basic needs: clean water, enough food, something even close to gender equity. That friction fascinated me.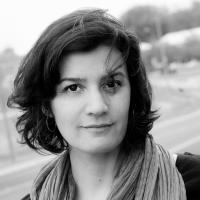 Meera Subramanian
I set aside an endlessly languishing book proposal about peregrine falcons, and quickly put together a proposal using the five elements (earth, water, fire, air, and ether) as the framework. Through character-driven narratives, I explored organic agriculture, water restoration, wood cookstoves, vultures, and reproductive health training for teenage girls.
Each story from a different part of India unearthed unexpected dynamics at play, but also exemplified environmental challenges at play around the world, from the drought-stricken communities of California to the developing countryside of China.
I pitched the proposal informally to publishers in India, where it sold to HarperCollins India. The Society of Environmental Journalists helped fund one long reporting trip, and a Fulbright-Nehru fellowship funded another. My agent sold it to PublicAffairs in the U.S. about a year after the India sale. I did a few magazine stories along the way to help generate some income while living on the modest book advances, and juggled a part time job.
From the proposal to published book took a little over three years, although it would have been wise to allow more time to alternate research with reporting as the book developed. But I greatly enjoyed diving so deeply into one focused writing project.
Contact info:
Buy this book now in the ScienceWriters bookstore.
———————————
NASW members: will your book be published soon? Take advantage of this opportunity for shameless self-promotion.
Tell your fellow NASW members how you came up with the idea for your book, developed a proposal, found an agent and publisher, funded and conducted research, and put the book together. Include what you wish you had known before you started this project, or had done differently.
See https://www.nasw.org/advance-copy-submission-guidelines.
Send info and images to Lynne Lamberg, NASW book editor, llamberg@nasw.org.