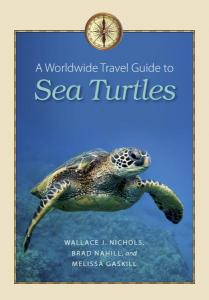 A World-Wide Travel Guide to Sea Turtles
A WORLD-WIDE TRAVEL GUIDE TO SEA TURTLES
Wallace J. Nichols, Brad Nahill, Melissa Gaskill (NASW member)
Texas A&M University Press, September 10, $25
ISBN 978-1-62349-161-1
Gaskill writes:
I've been a freelance science, environment, and travel writer for more than 20 years. In 2005, I had my first up-close encounter with a sea turtle in Baja California Sur, and was completely hooked.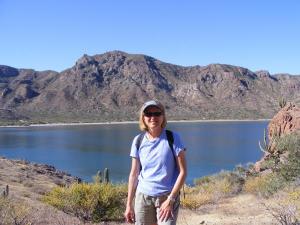 Melissa Gaskill
During the next few years, I wrote several travel articles featuring sea turtles, and, after the 2010 BP oil spill, a number of pieces about how the disaster might affect sea turtles in the Gulf of Mexico. I discovered that a dedicated cadre of scientists and conservationists around the world are protecting this endangered species, many using a model that relies on volunteers and tourism.
I had the idea of a book about how people could help, and enlisted the help of Wallace J. Nichols, a sea turtle biologist I had interviewed for previous stories, and Brad Nahill, an eco-tourism expert. All of us had visited sea turtle conservation projects.
We used our experience to write a proposal and sample chapters to seek an agent. We signed with one for a year, but ultimately ended up selling the book ourselves. I'm not sure our agent clicked to the importance of the science content and details about international travel.
I wish we had thought of the university press route earlier, and had the book out a few years ago! I met the editor of the Texas A&M University press at a scientific conference, where she was promoting books on a variety of scientific subjects, including those aimed at the general public. She respects the science aspect, and understands the importance of making that accessible through the travel angle.
In addition to our personal experience, much of the information in the book came through a well-established network of sea turtle folks around the world, a tight-knit group I'm proud to call myself part of.
The finished product is a guide to responsible, sustainable sea turtle projects around the world that people can support by volunteering or visiting. We included basic biology on sea turtles, threats to their survival, and various ways people can help protect them.
Contact info:
Buy this book now in the ScienceWriters bookstore.
———————————
NASW members: will your book be published soon? Take advantage of this opportunity for shameless self-promotion.
Tell your fellow NASW members tell how you came up with the idea for your book, developed a proposal, found an agent and publisher, conducted research, and put the book together. Include what you wish you had known before you started working on your book, or had done differently.
See https://www.nasw.org/advance-copy-submission-guidelines.
Send info and images to Lynne Lamberg, NASW book editor, llamberg@nasw.org.