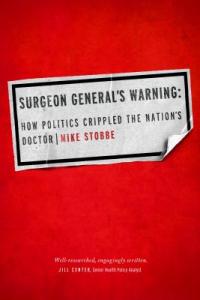 SURGEON GENERAL'S WARNING:
HOW POLITICS CRIPPLED THE NATION'S DOCTOR
Mike Stobbe
University of California Press, June 26, $34.95
ISBN: 9780520272293
Stobbe reports:
"I suppose we can count on the next surgeon general being afraid to speak up about anything at all. Since public speaking is virtually the only power or duty attached to the office, the post might as well be abolished. It could save some money."
Those words came from a Seattle Times reader more than 20 years ago, in a letter to the editor reacting to news of the termination of surgeon general Joycelyn Elders. The same observations, and questions, persist.
Surgeon General's Warning: How Politics Cripple The Nation's Doctor traces how surgeons general, including Luther Terry, C. Everett Koop, and Elders, courted controversy in facing issues such as smoking, AIDS, and masturbation. It also takes the reader on a quick tour of U.S. public health history, and explains why the surgeon general is important, and why the position's decline is harming our national well-being.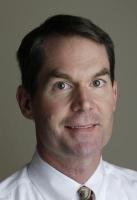 I'm a New York City-based reporter at the Associated Press who mainly covers the CDC and public health issues. I've been interested in how the government communicates with the public about disease outbreaks, chronic illness, and other health issues. Several years ago, I was working on a doctorate in public health at the University of North Carolina, and decided to make my dissertation on the position known as 'the nation's doctor.' I wanted to explore why the surgeon general had become relatively invisible, especially in the last decade.
I spent about seven years on the dissertation and resulting book, in a project that involved more than 100 interviews, archive research trips, and many late nights writing after my family went to bed. After I got my degree, I connected with a great agent, Rick Broadhead. He helped me shape the proposal.
Several commercial publishers declined, saying they didn't think the topic was of broad general interest. Then we approached the University of California Press, which, fortunately, said yes.
I wish I had known how much money and time the project was going to cost, and had known of a journalism foundation or other entity that might have supported my research.
Contact info:
Buy this book now in the ScienceWriters bookstore.
———————————
NASW members: will your book be published soon? Take advantage of this opportunity for shameless self-promotion.
Tell your fellow NASW members tell how you came up with the idea for your book, developed a proposal, found an agent and publisher, conducted research, put the book together, and what you wish you'd known before you started your project.
See https://www.nasw.org/advance-copy-submission-guidelines.
Send info and images to Lynne Lamberg, NASW book editor, llamberg@nasw.org.