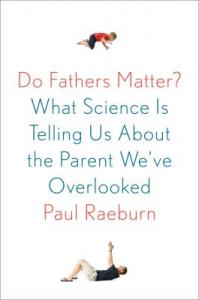 DO FATHERS MATTER?
WHAT SCIENCE IS TELLING US ABOUT THE PARENT WE'VE OVERLOOKED
Paul Raeburn
Scientific American/Farrar, Straus and Giroux; June 3, 2014; $26.00
ISBN-10: 0374141045
ISBN-13: 978-0374141042
Raeburn reports:
Do Fathers Matter? grew out of my previous book, Acquainted with the Night, a memoir of raising children with depression and bipolar disorder. When I finished that book, I thought I wanted to do a book on new research on how the brain continues to grow and change through the teenage years and into adulthood.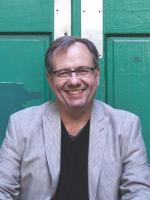 After a couple of years of thinking about that, I realized I was interested not so much in teenagers, but in what was known about the fathers of teens and their interactions with their children. That led me to the idea of a book on research on fatherhood, much of which has not been reported in the popular press.
My agent helped me secure a contract, and then a second contract when my first editor was laid off. When I started Do Fathers Matter, I plunged into the research with great enthusiasm, only to make a mistake I'd made before: I spent too much time doing research and reporting before starting to write.
This is my fourth book, and I've had to learn this lesson over again several times. I hope I remember it when I start my next book.
Contact info:
Buy this book now in the ScienceWriters bookstore.
———————————
NASW members: will your book be published soon? Take advantage of this opportunity for shameless self-promotion.
Tell your fellow NASW members tell how you came up with the idea for your book, developed a proposal, found an agent and publisher, conducted research, put the book together, and what you wish you'd known before you started your project.
See https://www.nasw.org/advance-copy-submission-guidelines.
Send info and images to Lynne Lamberg, NASW book editor, llamberg@nasw.org.