Handbook for Science Public Information Officers cover
HANDBOOK FOR SCIENCE PUBLIC INFORMATION OFFICERS
W. Matthew Shipman
University of Chicago Press, August 5, 2015, $25.00
ISBN: 9780226179322
Shipman reports:
I work as a science writer and public information officer (PIO) at North Carolina State University, and I'm constantly trying to get better at what I do. I normally ask people a million questions, try new things to see what works, and read everything I can about a subject. I made the jump from journalism to public relations in 2008, and started looking for a book on how to be a PIO at a research institution. There wasn't one.
There are good books on various aspects of science writing, but none that talk about how a PIO can work effectively with researchers, pitch stories to reporters without being annoying, deal with the constantly evolving social media landscape, etc.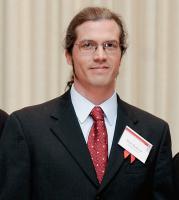 Matt Shipman
So, in 2013, I decided to write the book I'd been looking for. I wanted to write a guide for beginners in the field and for those considering becoming PIOs: students, journalists, and researchers. I also wanted the book to be useful to established PIOs at universities, federal agencies, museums, journals, research hospitals, and nonprofits.
I contacted an acquaintance in the publishing world, and told her that I had an idea, but no clue about how to proceed. She outlined what a book pitch should look like, and referred me to an editor at the University of Chicago Press. The editor gave me more information on what I would need to submit: a sample chapter, a chapter outline, and a 1-2 page proposal outlining the book's audience, rationale, any competing or complementary books already on the market, and why I should be the person to write the book.
The proposal and sample chapter were well received, and I got a contract and a modest advance. Then the writing began in earnest. I already had a fairly comprehensive outline of what I wanted to address in each chapter, so I was able to dive right in. Writing every day from 5 to 7 a.m., I completed the first draft in about six months.
I tried to pack in all of the relevant information I'd learned from my experiences as a reporter and PIO. I'm now looking forward to hearing from readers to find out if the book is as useful as I hope it will be.
Contact info:
Buy this book now in the ScienceWriters bookstore.
———————————
NASW members: will your book be published soon? Take advantage of this opportunity for shameless self-promotion.
Tell your fellow NASW members how you came up with the idea for your book, developed a proposal, found an agent and publisher, funded and conducted research, and put the book together. Include what you wish you had known before you started this project, or had done differently.
See https://www.nasw.org/advance-copy-submission-guidelines.
Send info and images to Lynne Lamberg, NASW book editor, llamberg@nasw.org.