A HISTORY IN SUM: 150 YEARS OF MATHEMATICS AT HARVARD (1825-1975)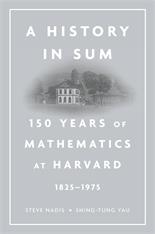 Steve Nadis (NASW member) and Shing-Tung Yau
Harvard University Press, Nov 1, 2013, $39.95
ISBN: 978-0674725003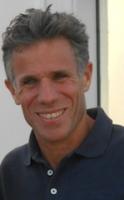 Nadis reports:
A History in Sum grew out of my previous book, The Shape of Inner Space (Basic Books, 2010), which I also wrote with Harvard mathematician Shing-Tung Yau.
By the time the former book was complete, Yau had become chair of the Harvard Mathematics Department, and asked me if I'd be interested in writing a book about the history of mathematics at Harvard. I said yes right away, even though I did not yet appreciate the richness of the subject.
I quickly discovered, in the course of my research, that the mathematicians from Harvard who'd made the biggest contributions to their respective fields (and in some cases inventing their fields) — people like Benjamin Peirce, George David Birkhoff, Lars Ahlfors, and Oscar Zariski — were fascinating individuals with compelling life stories. I also learned that the history of mathematics at Harvard, the nation's oldest university, constituted a vital part of the history of mathematics in the United States and beyond.
Something else became apparent while writing this book that I probably should have known at the outset: describing 20th century mathematics to nonprofessionals — including topics like algebraic geometry, complex analysis, category theory, and representation theory — is extraordinarily difficult. A mathematician friend told me in the early going that I was crazy to attempt it. I was relieved afterwards, when he reported that I just might have pulled it off.
Although I'm quite proud of this book, I realize that it may not be for everyone. Another friend I know through coaching youth soccer couldn't quite grasp the notion of the history of mathematics. "Two plus two equals four," he said. "And that's never going to change."
Contact info:
---
Will your book be published soon?
Send info and images to Lynne Lamberg, NASW book editor, llamberg@nasw.org.