TRIUMPH OVER TENSION: EASY STEPS FOR COPING IN A COMPLEX WORLD
(Revised and expanded)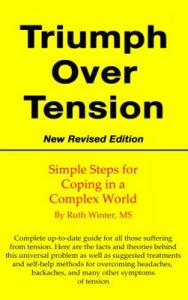 Ruth Winter, MS
Independent Features, July 2013, Kindle edition, $3.99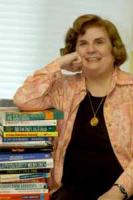 Winter reports:
The book contains self-evaluation questions to pinpoint how tense you are. It describes the latest research on biological effects of tension on your body, and actions to take to cope with the many tension-causing circumstances you may meet in daily life. It addresses tensions at work, in families, while traveling, in sexual relations, at leisure, and in surviving change and loss.
I also describe prescription, over-the-counter, and herbal medicines used to fight tension.
When this book first came out in 1976, it got off to a great start. It was advertised in Parade, and had premium sales, as well as reader sales. Then the publisher went under. Because of legal fighting, the book remained fallow for years.
Having published 34 books with traditional publishers, I decided to try self-publishing this time.
I initially intended just to revise it, and send it to Amazon. I found some of my experts had passed away, however, and some of the topics were no longer relevant. I rewrote the entire book with new experts and information about technology that didn't exist when the first edition came out.
My son, Grant, a writer-producer at CBS TV, and my son, Craig, a computer genius, helped me with copy-editing and formatting. I couldn't have done it on my own. Self-publishing gave me first-hand experience with technotension.
Contact info:
---
Deadline for October 2013 book blog: September 25, 2013
Send your book description, author photo, and book cover image to Lynne Lamberg, NASW book editor, llamberg@nasw.org.