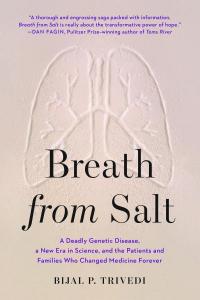 Breath from Salt
BREATH FROM SALT:
A DEADLY GENETIC DISEASE, A NEW ERA IN SCIENCE,
AND THE PATIENTS AND FAMILIES
WHO CHANGED MEDICINE FOREVER
Bijal P. Trivedi
BenBella Books, September 8, 2020, $28.95, Kindle: $20.08
ISBN-10: 1948836378; ISBN-13: 9781948836371
ASIN: B084RM6ZCF
Trivedi reports:
Breath from Salt grew out of a Discover magazine assignment. My mission was to investigate the backstory behind a new drug, Kalydeco (ivacaftor), that was being touted as a revolutionary life-saving medicine for 4% of children with a rare and fatal disease, cystic fibrosis. That was in 2012.
While researching the story, I interviewed a couple whose son had died of the disease. Despite the heartache, they didn't walk away from the cystic fibrosis community. Instead, they doubled down to help with efforts to find a treatment. They've raised more than $250 million for the Cystic Fibrosis Foundation, money that was invested in drug research.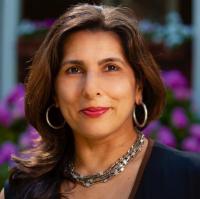 Bijal P. Trivedi
Meeting them made me want to follow the story—and produce a book about it. Over the next seven years, I interviewed families, physicians, scientists, patients, philanthropists, and entrepreneurs.
By 2019, a pharmaceutical company had developed three more FDA-approved medicines for cystic fibrosis. There are now treatments for more than 90% of those born with this lethal hereditary disease. These medicines also made medical history: they launched the age of personalized medicine.
This was my first book and it took about a year to figure out the story and write a proposal, which I did by following instructions laid out in Thinking Like Your Editor: How to Write Great Serious Nonfiction and Get It Published by Susan Rabiner and Alfred Fortunato, along with insight and feedback from colleagues.
I shopped the proposal around to 10 agents. I went with Ethan Bassoff, who is now with the Ross Yoon Agency. Ethan garnered interest from three publishers, all with very modest advances. I chose BenBella Books. They were incredibly flexible and supportive during the entire project.
Since my advance was modest, I had to fund most of the travel, all of the transcription and the illustrations for the book.
For my next book, I'd hire a research assistant (a smart, young college grad) much earlier in the process and find an independent artist to work with rather than hiring a firm.
Contact info:
Bijal P. Trivedi, bijal_trivedi@mac.com, https://www.bijaltrivedi.com/, https://www.bijaltrivedi.com/breath-from-salt, @BijalPTrivedi
Book: https://www.benbellabooks.com/shop/breath-from-salt/
Publicist: Lindsay Marshall, lindsay@benbellabooks.com
Agent: Ethan Bassoff, ethan@rossyoon.com
Buy this book now in the ScienceWriters bookstore. Your purchase helps support NASW programs and services.
---
NASW members: will your book be published soon? Take advantage of this opportunity for shameless self-promotion. Submit your report for Advance Copy.
Tell your fellow NASW members how you came up with the idea for your book, developed a proposal, found an agent and publisher, funded and conducted research, and put the book together. Include what you wish you had known before you began working on your book, or had done differently.
See https://www.nasw.org/advance-copy-submission-guidelines.
Review Advance Copy archives at https://www.nasw.org/member-article/advance-copy.
Thinking of writing a book? If you are a NASW member, you may access a list of more than 150 books and online resources to help you craft your book proposal, find an agent and funding sources, negotiate your contract, learn about self-publishing, publicize and market your book, and more at https://www.nasw.org/article/write-book.
Send book info and questions about book publishing to Lynne Lamberg, NASW book editor, llamberg@nasw.org.
Follow @LynneLamberg