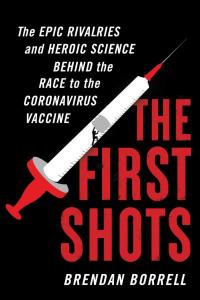 First Shots
THE FIRST SHOTS
THE EPIC RIVALRIES AND HEROIC SCIENCE
BEHIND THE RACE TO THE CORONAVIRUS VACCINE
Brendan Borrell
Mariner Books, October 26, 2021, $28.00
ISBN-10: 0358569842, ISBN-13: 9780358569848
Borrell reports:
When the coronavirus broke out in early 2020, I couldn't tear myself away from the deluge of bad news, but I'm a features writer and was slow in figuring out how I could put my own reporting skills to good use. In April, I started publishing a few newsy stories and coming up with more thoughtful projects, including an essay on "vaccine diplomacy" for Wired.
That essay caught the eye of an agent I had been talking to over the previous year, Susan Canavan. She suggested I put together a book proposal on the vaccine race by the end of the month. It sounded nuts. I had no idea how I would craft a book-length narrative or how I would even pull off the reporting amid a pandemic. But I couldn't stop thinking about it.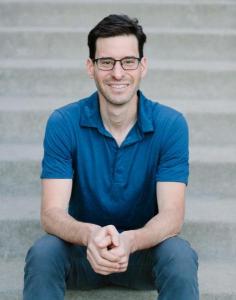 Brendan Borrell
One day I sat down and crafted a 25-page proposal. It had been so long since I had written something that was 100% my own voice. I had so much fun with it. The best part was that publishers liked it. It sold at auction, giving me a very nice advance!
Next came the "oh crap" moment. We still didn't know how or when the vaccine race was going to end. What I did know was that my deadline was less than a year away. Perhaps the biggest mistake I made was agreeing to share parts of the book with my editor throughout this accelerated process.
The problem wasn't my editor, who was great, but my frantic reporting and writing were non-linear. The early sections were rough, and I needed more time to digest the material I was gathering. I think it wasn't until the final months that the editing process really started paying off.
The advice I would give to aspiring writers is to be patient. It took me longer than most to find a book topic I could be totally absorbed by. I would not have been able to complete it in this tight time frame were it not for everything I learned working on dozens of longform articles over my many years as a freelancer.
Contact Info: -
---
NASW members: will your book be published soon? Promote it by submitting your report for Advance Copy.
Tell your fellow NASW members how you came up with the idea for your book, developed a proposal, found an agent and publisher, funded and conducted research, and put the book together. Include what you wish you had known before you began working on your book, or had done differently.
See https://www.nasw.org/advance-copy-submission-guidelines.
View Advance Copy archives at https://www.nasw.org/member-article/advance-copy.
Thinking of writing a book? If you are a NASW member, you may access a list of more than 200 books and online resources to help you craft your book proposal, find an agent and funding sources, negotiate your contract, learn about self-publishing, publicize and market your book, and more at https://www.nasw.org/article/write-book.
Send book info and questions about book publishing to Lynne Lamberg, NASW book editor, llamberg@nasw.org.
Follow @LynneLamberg on Twitter for news about science/medical books and writing.
Hero image by David Sohair on Unsplash.