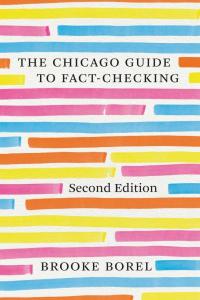 Chicago Guide to Fact-Checking, 2nd Ed.
THE CHICAGO GUIDE TO FACT-CHECKING, SECOND EDITION
Brooke Borel
University of Chicago Press, May 23, 2023
Paperback, $18, eBook, $17.99
ISBN-13: 978-0226817897, eBook ASIN: B0BTWC2QQG
Borel reports:
The first edition of The Chicago Guide to Fact-Checking was published in October 2016, just before that year's presidential election. Well, as we all know, a lot has happened since then.
Climate change and the pandemic, for example, have been fertile ground for the proliferation of misinformation, disinformation, conspiracy theories, and propaganda. Falsehoods have shifted in ways that I certainly didn't predict five years ago.
Although the original book generally has held up well and has a lot of useful material, some aspects of it were beginning to feel pretty outdated. The University of Chicago Press—rightly, I think—decided the book needed a refresh. And so we embarked on the second edition.
In addition to an entirely new introduction and conclusion, the book covers the evolving media landscape and provides new guidance on checking audio and video sources, polling data, and covering sensitive subjects such as trauma and abuse.
Some outlets use the magazine model, essentially independent fact-checking. Others use the newspaper model, where verification is mainly the responsibility of the journalist. Still others use a hybrid model, applying the magazine approach to long, complex, or legally sensitive pieces and reserving the quicker, newspaper approach for breaking news or short items.
Fact checkers work not only with newspapers and magazines but also increasingly in other media, including podcasts, documentaries, and nonfiction books. Some book authors hire fact-checkers on their own, a wise decision. I think the task is truly better off in the hands of a third party whenever possible.
I expanded the sections on working with writers, editors, and producers and added advice on getting fact-checking gigs. The book also addresses the looming challenges posed by artificial intelligence and other technologies.
I also included two exercises to test your skills, along with answers and discussion and an appendix with suggested reading and listening.
Who knows what the coming years will bring and whether we'll need a third edition (or more)? For aspiring book authors out there: Don't be afraid of the fact-checking process. It can be done. Please do it!
Contact info:
---
NASW members: will your book be published soon? Promote it by submitting your report for Advance Copy.
Tell your fellow NASW members how you came up with the idea for your book, developed a proposal, found an agent and publisher, funded and conducted research, and put the book together. Include what you wish you had known before you began working on your book, or had done differently.
See https://www.nasw.org/advance-copy-submission-guidelines.
View Advance Copy archives at https://www.nasw.org/member-article/advance-copy.
Thinking of writing a book? If you are a NASW member, you may access a list of more than 200 books and online resources to help you craft your book proposal, find an agent and funding sources, negotiate your contract, learn about self-publishing, publicize and market your book, and more at https://www.nasw.org/article/write-book.
View the recording of a recent Advance Copy Virtual Business Chat, A Primer for Authors on Book Publicity. NASW member login required.
Send book info and questions about book publishing to Lynne Lamberg, NASW book editor, llamberg@nasw.org.
Follow @LynneLamberg on Twitter for news about science/medical books, writing, and NASW authors.
Banner image adapted from original photo by Brooke Borel.
NASW invites publishers and publicists to purchase NASW website ads to promote their authors and books. Visit https://www.nasw.org/node/add/ad to access NASW's self-service purchasing portal.