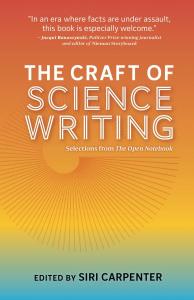 Cover: Craft of Science Writing
THE CRAFT OF SCIENCE WRITING: SELECTIONS FROM THE OPEN NOTEBOOK
Siri Carpenter, Editor
The Open Notebook, February 1, 2020
Paperback, $24.95; E-book, $9.99; library edition, $95.00
Paperback: ISBN-10: 1734028009, ISBN-13: 978-1734028003
ASIN: B081LG93WV; Epub: ISBN: 13: 978-1734028010
Library edition: ISBN-13: 978-1734028027
Carpenter reports:
When The Open Notebook's most longstanding funder, Russ Campbell of the Burroughs Wellcome Fund, offered to support development of a TON anthology, I was thrilled at the opportunity to pull some of our best material into something that people could hold in their hands. Deciding what to include was tough, but I ultimately selected 30 TON articles that I felt would together make a coherent whole. I commissioned a few new articles as well.
I hired five journalists I admire to write introductions to each of the book's five sections, and I wrote an introduction and miscellaneous front- and end-matter. Everything was copy edited by a longtime member of the TON team, the fastidious Aaron Brooks, and proofread by TON co-founder Jeanne Erdmann and me as well as one of my aunts and both my parents (thanks, family!).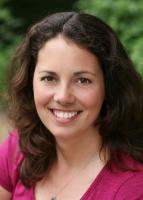 Siri Carpenter
Publishing a book independently to a professional caliber is a complex and daunting task. One thing I learned in producing The Craft of Science Writing is when to embrace yet another learning curve, and when to hire someone who knows more than you do. I hired a freelance designer, Alison Mackey, to design the book's interior and cover; a book publicist, Sarah Russo, to advise on how to get the word out about the book; a web developer, Jim Webb, to create a template for a book page and a page where we could take direct orders; and a publishing strategist, Eric Van Der Hope, to manage the technical process of uploading files to several different publishing platforms (Kindle Direct Publishing, IngramSpark, and Draft2Digital), linking them together, setting up pre-ordering, and more.
Bringing these talented people on board freed me up to continue overseeing the rest of TON's work while also shepherding the book to completion. Maybe I could have stumbled along without their help, but I know I would have spent far more (unpaid) time, suffered through endless technical glitches that I wasn't well equipped to handle, and ended up with a book that was less attractive and that might not have had as much of an impact as I hope this one will.
Contributors to The Craft of Science Writing (NASW members in bold):
Christie Aschwanden, Siri Carpenter, Tina Casagrand, Jeanne Erdmann, Dan Fagin, Dan Ferber, Azeen Ghorayshi, Geoffrey Giller, Laura Helmuth, Jane C. Hu, Alla Katsnelson, Roxanne Khamsi, Maggie Koerth-Baker, Jyoti Madhusoodanan, Apoorva Mandavilli, Amanda Mascarelli, Robin Meadows, Kate Morgan, Tien Nguyen, Michelle Nijhuis, Aneri Pattani, Rodrigo Pérez Ortega, Mallory Pickett, Kendall Powell, Tasneem Raja, Sandeep Ravindran, Julia Rosen, Christina Selby, Alexandra Witze, Wudan Yan, Ed Yong, Rachel Zamzow, Sarah Zhang, Carl Zimmer.
Contact info:
Buy this book now in the ScienceWriters bookstore. Your purchase helps support NASW programs and services.
---
NASW members: will your book be published soon? Take advantage of this opportunity for shameless self-promotion. Submit your report for Advance Copy.
Tell your fellow NASW members how you came up with the idea for your book, developed a proposal, found an agent and publisher, funded and conducted research, and put the book together. Include what you wish you had known before you began working on your book, or had done differently.
See https://www.nasw.org/advance-copy-submission-guidelines.
View Advance Copy archives at https://www.nasw.org/member-article/advance-copy.
Thinking of writing a book? If you are a NASW member, you may access a list of more than 150 books and online resources to help you craft your book proposal, find an agent and funding sources, negotiate your contract, learn about self-publishing, publicize and market your book, and more at https://www.nasw.org/article/write-book.
Send book info and questions about book publishing to Lynne Lamberg, NASW book editor, llamberg@nasw.org.