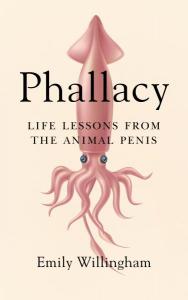 Phallacy
PHALLACY:
LIFE LESSONS FROM THE ANIMAL PENIS
Emily Willingham
Avery/Penguin; September 22, 2020; $27
ISBN 10: 0593087178; ISBN 13: 978-0593087176
Kindle ASIN: B085XKSMTG
Willingham reports:
I was considering various book ideas when I realized that what the world didn't have was a book solely about animal penises.
We have lots of books about our own penis, which we have treated as everything from a deity to a danger. But animal penises have so much to teach us and to help put our own in context. Our penises are wonderful, but they aren't on the "holy wow" end of the animal penis spectrum.
I had been discussing different book ideas with my agent, Emma Parry at Janklow & Nesbit, when I had the penis proposal epiphany. Emma had reached out to me after reading an essay I'd written for Aeon about the mosaic human brain, and we just clicked. I love her--she's smart and kind and has what sounds to my Texan ear like a posh British accent.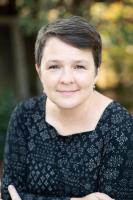 Emily Willingham, photo by Gina Logan
To develop the proposal, I talked about it with Emma, wrote a draft, and incorporated her feedback. Her key advice for me was "find the gift for your reader." In this case, the gift is the message that although our delightful penises are not as impressive as we think compared to those of a lot of other animals, we do have excellent brains to use in forming intimate relationships involving our penises.
My proposal for PHALLACY went to auction, and I used the resulting advance to fund the book. Most of the funds went to research travel. I enjoyed this whole process so much from beginning to present that I don't have something I wish I'd done differently or had known beforehand.
A key was the fascinating subject, which is important for any book given how much time you'll spend with it. My pieces of advice for any aspiring author are as follows: try to find an agent who clicks with you, seems genuinely interested in what your brain and skills can bring to a book, and knows which editors to pitch, and, to steal from my agent, keep your mind's eye on what that "gift" for your reader can be as you research and plan.
Contact info:
Buy this book now in the ScienceWriters bookstore. Your purchase helps support NASW programs and services.
---
NASW members: will your book be published soon? Take advantage of this opportunity for shameless self-promotion. Submit your report for Advance Copy.
Tell your fellow NASW members how you came up with the idea for your book, developed a proposal, found an agent and publisher, funded and conducted research, and put the book together. Include what you wish you had known before you began working on your book, or had done differently.
See https://www.nasw.org/advance-copy-submission-guidelines.
Review Advance Copy archives at https://www.nasw.org/member-article/advance-copy.
Thinking of writing a book? If you are a NASW member, you may access a list of more than 150 books and online resources to help you craft your book proposal, find an agent and funding sources, negotiate your contract, learn about self-publishing, publicize and market your book, and more at https://www.nasw.org/article/write-book.
Send book info and questions about book publishing to Lynne Lamberg, NASW book editor, llamberg@nasw.org.
Follow @LynneLamberg
Hero image by Giammarco Boscaro on Unsplash