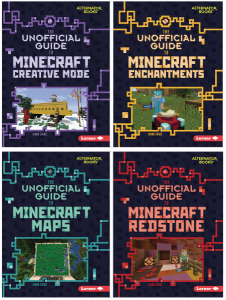 Click to enlarge.
THE UNOFFICIAL GUIDE TO MINECRAFT CREATIVE MODE
THE UNOFFICIAL GUIDE TO MINECRAFT ENCHANTMENTS
THE UNOFFICIAL GUIDE TO MINECRAFT MAPS
THE UNOFFICIAL GUIDE TO MINECRAFT REDSTONE
Series: My Minecraft Alternator Books (Grade Level: 3–6)
Linda Zajac
Lerner; August 1, 2020; $9.99 (paperback), $21.99 (library binding)
Creative Mode: ISBN-10: 1728414563; ISBN-13: 978-1728414560
Enchantments: ISBN-10: 172841458X; ISBN-13: 978-1728414584
Maps: ISBN-10: 1728414555; ISBN-13: 978-1728414553
Redstone: ISBN-10: 1728414571: ISBN-13: 978-1728414577
eBooks also available
Zajac reports:
I was asked to write this four-book series, which covers various aspects of Minecraft game play. I had worked with this publisher before on two other Minecraft books for kids https://www.nasw.org/member_article/linda-zajac-unofficial-guides-minecraft-survival-minecraft-mods.
The time frame was exceptionally tight. The publisher wanted four books with glossaries and STEM/coding sidebars in less than three months. During that time there were two major holidays and I had a five-day vacation booked. Although it seemed like an impossible task, I took the job because I didn't have any commitments at the time and I like a challenge.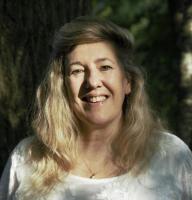 Linda Zajac
To get a visual sense of my outline and text due dates, I wrote the eight deadlines in my planner. Then I raided the library and checked out every young adult and adult Minecraft book that was on the shelf. Systematically, I scanned through each source, making a list of the pages that pertained to my topics. This way, I knew which books I needed for each of my subjects. Although some outlines weren't due until December, I finished all of them in a week. Psychologically, checking off half my deadlines was a huge stress reliever.
I tackled the books in the order they were due. Whenever I was at a loss for words, I'd switch to the next book and work on that one for a while. During this flurry of writing, I also received additional unrelated work, so, I ended up taking work with me on vacation. I met all my deadlines, but it was close. I turned in the final book on the day it was due.
Shortly after the books were done, I received a screenshot wishlist for each book. The screenshots were fun, but they took time. I devised redstone contraptions, built the Mark Twain House, and designed a working rollercoaster. You can see the rollercoaster and other redstone contraptions in these videos: https://www.youtube.com/playlist?list=PL6G4ISUdMeIehw-hl6lG3mhnz0PSu3zE0
I wish I had known that the screenshots the publisher asked for early on would end up on the actual covers. I didn't squander time, though, so I wouldn't have done anything differently.
Contact info: -
Buy The Unofficial Guide to Minecraft Creative Mode, The Unofficial Guide to Minecraft Enchantments, The Unofficial Guide to Minecraft Maps, and The Unofficial Guide to Minecraft Redstone now in the ScienceWriters bookstore. Your purchase helps support NASW programs and services.
---
NASW members: will your book be published soon? Take advantage of this opportunity for shameless self-promotion. Submit your report for Advance Copy.
Tell your fellow NASW members how you came up with the idea for your book, developed a proposal, found an agent and publisher, funded and conducted research, and put the book together. Include what you wish you had known before you began working on your book, or had done differently.
See https://www.nasw.org/advance-copy-submission-guidelines.
Review Advance Copy archives at https://www.nasw.org/member-article/advance-copy.
Thinking of writing a book? If you are a NASW member, you may access a list of more than 150 books and online resources to help you craft your book proposal, find an agent and funding sources, negotiate your contract, learn about self-publishing, publicize and market your book, and more at https://www.nasw.org/article/write-book.
Send book info and questions about book publishing to Lynne Lamberg, NASW book editor, llamberg@nasw.org.
Hero image credit: Caleb Meeds