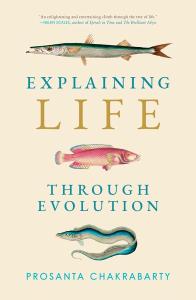 Explaining Life through Evolution
EXPLAINING LIFE THROUGH EVOLUTION
Prosanta Chakrabarty
MIT Press, August 8, 2023, paperback $22.95, ebook $15.99
ISBN-10: 0262546256, ISBN-13: 978-0262546256
Epub: 97892662375474, ASIN: B0BLTSYYFN
Chakrabarty reports:
I started writing Explaining Life Through Evolution as a response to an anti-evolution law in my adopted home state of Louisiana.
I begin the book by explaining the consequences of the "Louisiana Science Education Act," passed by the Louisiana Legislature on June 11, 2008. The Act should have been named the "Weakening of Science Education Act" because it allows public school teachers to bring into the classroom non-science materials to contradict so-called "controversial" scientific ideas like evolution.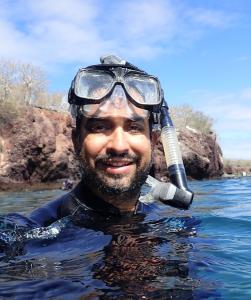 Prosanta Chakrabarty
I wanted to explain why evolution shouldn't be controversial. Evolution is a fact: It is a fact built on observations and experiments and everything from a 3.5-billion-year-old fossil record to work with genetic editing tools like CRISPR.
I met MIT Press representatives at an American Association for the Advancement of Science meeting in 2019. I had a seed of a book, and was glad they were open to working with me. At Louisiana State University, I have my regular research, teaching, and curatorial duties, and I have family responsibilities, so I've been pecking away at this book a long time.
I aimed to give readers tools not only to understand key concepts in evolution but also to help them explain the science of evolution and why it is important to others. Perhaps this focus is what separates it from other books on evolution.
Some people use false evolutionary ideas as a weapon against LGBTQ+ and other marginalized groups. They do so by reinforcing common misconceptions about evolution (e.g., "survival of the fittest") in a social/cultural context.
These tactics are similar to those of the eugenics era of the last century when some political parties promoted "Social Darwinism" to sterilize and sometimes promote the killing of people they thought were "weak." These heinous ideas have nothing to do with Darwin or the science of evolution. They are exaggerated and mutated views of biological processes.
I hope this text helps inform more people about what evolution is, and what it isn't. Understanding that race, gender, sex, and sexuality are traits on a spectrum ideally will neutralize bigotry towards minoritized and marginalized groups.
Contact info:
---
NASW members: will your book be published soon? Promote it by submitting your report for Advance Copy.
Tell your fellow NASW members how you came up with the idea for your book, developed a proposal, found an agent and publisher, funded and conducted research, and put the book together. Include what you wish you had known before you began working on your book, or had done differently.
See https://www.nasw.org/advance-copy-submission-guidelines.
View Advance Copy archives at https://www.nasw.org/member-article/advance-copy.
Thinking of writing a book? If you are a NASW member, you may access a list of more than 200 books and online resources to help you craft your book proposal, find an agent and funding sources, negotiate your contract, learn about self-publishing, publicize and market your book, and more at https://www.nasw.org/article/write-book.
Send book info and questions about book publishing to Lynne Lamberg, NASW book editor, llamberg@nasw.org.
Follow @LynneLamberg on Twitter for news about science/medical books, writing, and NASW authors.
Banner image adapted from original photo by Prosanta Chakrabarty.
NASW invites publishers and publicists to purchase NASW website ads to promote their authors and books. Visit https://www.nasw.org/node/add/ad to access NASW's self-service purchasing portal.