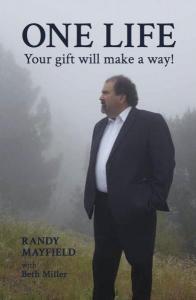 One Life
ONE LIFE: YOUR GIFT WILL MAKE A WAY!
Randy Mayfield with Beth Miller (NASW Member)
Self-published, July 2020, $15
ISBN 10: 164970609X; ISBN 13: 978-1649706096
Miller reports:
Randy Mayfield, a St. Louis-based singer/songwriter/missions pastor and a lifelong friend, asked me to write his memoir/autobiography before his planned retirement at the end of 2020. At the time I was finishing my master's degree at Washington University in St. Louis, where I work as an engineering and science writer.
We began work in July 2019 with several multi-hour interviews during which Randy talked about his nearly 40-year career. Randy has a larger-than-life, extroverted personality, so I worked very hard to keep the interviews on track.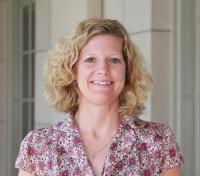 Beth Miller
Each chapter focuses on one of the countries where Randy has done missions. He has helped to establish summer camps for kids in Ukraine, orphanages in India, feeding and clean water programs in Haiti, job training programs for Kurdish refugees in Iraq, and schools and churches worldwide. The book also contains 31 pages of photographs from his experiences.
My advice to coauthors or ghostwriters is to know when to stand your ground on style, grammar, and punctuation, and when to be flexible. I used more exclamation points in this book than I have ever used in all my 30 years of writing combined. This was Randy's story, however, so I used them. I strived to keep the tone of his voice, not mine, which was a challenge. I reached out to a local graphic designer to design the photo section and the cover, and I worked with a local printer to publish the book.
I wish I had known more about how much work is required to take a manuscript from a Word document to a finished product. If I could do it over, I would format the book differently and use blank pages between chapters to create section breaks.
This was a fantastic learning experience for me and prompted me to begin my own book, which is part memoir about my experience with a troubled rescue dog and part science about emotionally troubled dogs, including the rare instances in which pet owners must make a difficult choice, behavioral euthanasia, when all efforts to rehabilitate their pet have failed.
Contact info:
Beth Miller, 314-540-5256, millerbe@wustl.edu, https://www.instagram.com/bethmillerwriter/
Book: http://randymayfield.com/one-life-book/
---
NASW members: will your book be published soon? Take advantage of this opportunity for shameless self-promotion. Submit your report for Advance Copy.
Tell your fellow NASW members how you came up with the idea for your book, developed a proposal, found an agent and publisher, funded and conducted research, and put the book together. Include what you wish you had known before you began working on your book, or had done differently.
See https://www.nasw.org/advance-copy-submission-guidelines.
Review Advance Copy archives at https://www.nasw.org/member-article/advance-copy.
Thinking of writing a book? If you are a NASW member, you may access a list of more than 150 books and online resources to help you craft your book proposal, find an agent and funding sources, negotiate your contract, learn about self-publishing, publicize and market your book, and more at https://www.nasw.org/article/write-book.
Send book info and questions about book publishing to Lynne Lamberg, NASW book editor, llamberg@nasw.org.
Follow @LynneLamberg
Hero image by Andrzej Rembowski from Pixabay.