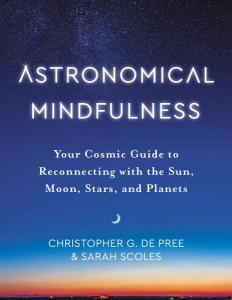 Astronomical Mindfulness
ASTRONOMICAL MINDFULNESS:
YOUR COSMIC GUIDE TO RECONNECTING WITH
THE SUN, MOON, STARS AND PLANETS
Christopher G. De Pree and Sarah Scoles (NASW Member)
HarperOne, January 4, 2022, $24.99
ISBN-13: 978-0063041325
Scoles and De Pree report:
Some of the exercises in the book began as astronomy labs at Agnes Scott College, where we met back in 2003 as professor and student. Both of us were struck by how easy it is to miss the motions of celestial objects. We wanted to help people notice them and their place in the universe. In a sense, this book felt like a way to bring the wonder that astronomy students often feel to a much wider audience--without pop quizzes.
Initially Chris's idea, the project felt like a good fit with our mutual interest in astronomical accessibility. We developed an overview of the book with a couple of sample "exercises," like one to estimate the number of visible stars in the sky. We then wrote a full outline, dividing the exercises up into topics like Sun, Moon, stars and planets.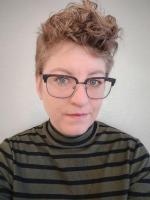 Sarah Scoles
Sarah's agent sent the outline to publishers. HarperOne, interested in the overlap of science and self-awareness, bit. As we started writing, our editor suggested including interviews and information about Indigenous astronomy. Both of us were writing during the early months of the pandemic, so we had time to focus, research, and try out our exercises.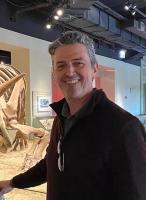 Christopher G. De Pree
In the early days, it seemed like the pandemic would be long-over when the book was ready. The publication date was initially set for Summer 2021, but as the pandemic continued, the date was pushed back, as were many other books' pub dates.
Had there not been a pandemic, it would have been nice to try the exercises out with friends, family, and colleagues. That way, we could have had a better sense of how the book would play out in the real world. But we'll just get to see now!
Our advice for aspiring authors: When you have an idea for a book, pursue it! There is nothing like the transformation of an idea into pages between covers. Write every day, even when it's bad, because it can be good later.
Contact info:
---
NASW members: will your book be published soon? Take advantage of this opportunity for shameless self-promotion. Submit your report for Advance Copy.
Tell your fellow NASW members how you came up with the idea for your book, developed a proposal, found an agent and publisher, funded and conducted research, and put the book together. Include what you wish you had known before you began working on your book, or had done differently.
See https://www.nasw.org/advance-copy-submission-guidelines.
Review Advance Copy archives at https://www.nasw.org/member-article/advance-copy.
Thinking of writing a book? If you are a NASW member, you may access a list of more than 150 books and online resources to help you create your book proposal, find an agent and funding sources, negotiate your contract, learn about self-publishing, publicize and market your book, and more at https://www.nasw.org/article/write-book.
Send book info and questions about book publishing to Lynne Lamberg, NASW book editor, llamberg@nasw.org.
Follow @LynneLamberg on Twitter for news about science/medical books and writing.
Hero image by chenspec on Pixabay.