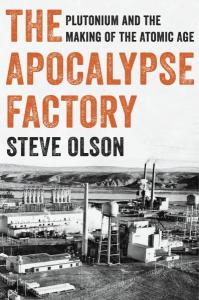 Apocalypse Factory
THE APOCALYPSE FACTORY:
PLUTONIUM AND THE MAKING OF THE ATOMIC AGE
Steve Olson
W. W. Norton & Company, July 28, 2020, $27.95
ISBN 10: 0393634973; ISBN 13: 9780393634976
E-Pub ISBN: 9780393634983
Olson reports:
I've been getting ready to write this book pretty much my whole life. I grew up in the 1960s in Othello, Washington, a small town in the south-central part of the state just over a ridgeline from a mysterious government facility called Hanford. We knew that Hanford was involved in the U.S. nuclear weapons program. Some people in town knew that it manufactured a substance called plutonium. But it was the Cold War. It was best not to ask too many questions.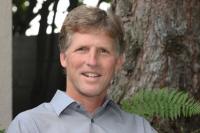 Steve Olson
In 1984 I visited Hanford to write a story for Science 84 magazine, and by the end of the trip, I had decided to write a book about the place. Thirty-six years later, the book is done.
The delay was partly because I had to move back to the state where I grew up, after 35 years on the East Coast, to be closer to Hanford. But this book also took a long time to figure out. I had to get used to the idea that something so important could have taken place just 20 miles from a town I was once so eager to leave.
My long-time agent Rafe Sagalyn liked the idea immediately when I described it to him in 2015. So did my editor at Norton, Alane Mason. But they had to work hard to get a readable book from me. I was fascinated by the science of Hanford. They wanted to read more about the place and less about protons and neutrons. In the end, we compromised.
One thing I didn't appreciate is that writing about an obscure part of the Manhattan Project and Cold War would require reading a lot of what has already been written about the subject. A big chunk of my advance went to the hundreds of books that now fill a dozen banker's boxes sitting here in my office. But it was great fun to interview people and do research around my childhood home. And going to Nagasaki in 2018 to write the section on the bombing of the city with plutonium made at Hanford was a once-in-a-lifetime experience.
Contact info: -
Buy this book now in the ScienceWriters bookstore. Your purchase helps support NASW programs and services.
---
NASW members: will your book be published soon? Take advantage of this opportunity for shameless self-promotion. Submit your report for Advance Copy.
Tell your fellow NASW members how you came up with the idea for your book, developed a proposal, found an agent and publisher, funded and conducted research, and put the book together. Include what you wish you had known before you began working on your book, or had done differently.
See https://www.nasw.org/advance-copy-submission-guidelines.
Review Advance Copy archives at https://www.nasw.org/member-article/advance-copy.
Thinking of writing a book? If you are a NASW member, you may access a list of more than 150 books and online resources to help you craft your book proposal, find an agent and funding sources, negotiate your contract, learn about self-publishing, publicize and market your book, and more at https://www.nasw.org/article/write-book.
Send book info and questions about book publishing to Lynne Lamberg, NASW book editor, llamberg@nasw.org.
Hero image by Engin Akyurt from Pixabay