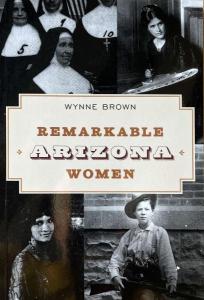 Remarkable Arizona Women
REMARKABLE ARIZONA WOMEN, 3rd Ed.
Wynne Brown
A TwoDot Book/Globe Pequot (trade division, Rowman & Littlefield)
October 1, 2022, print: $19.95, ebook: $19.00
Print ISBN: 9781493066865, ebook ISBN: 9781493066872
Brown reports:
In 1999, I was a copy editor/staff writer for the Knoxville (Tenn.) News-Sentinel. A side benefit was access to free newly published books in trade for a review. Among them was More Than Petticoats: Remarkable Tennessee Women, which featured a chapter on 12 women, each significant to the state's history.
While interviewing the book's author Susan Sawyer for my review, I learned More Than Petticoats is a national series about spirited, inspiring women. To be included, a woman had to have been born before 1900, accomplished something remarkable, and left her legacy in the featured state.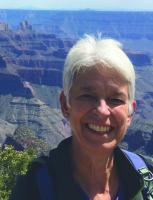 Wynne Brown
Because I was moving back to Tucson, I wanted to read the Arizona book. When I called the publisher, Globe Pequot Press, I was told, "No one's written that one yet – send a proposal." I trekked to the library to learn how to write a book proposal. To my astonishment, Globe Pequot accepted my submission.
By the time I was ready to start writing the book, my list included 130 eligible remarkable Arizona women.
Somehow I had to narrow the selection down to 12. While I wanted each chapter to stand on its own, I also wanted the book as a whole to tell the story of Arizona: its history, health care, agriculture, arts, Native Americans, entrepreneurship, politics, and education. With that framework, I found it easier to choose women whose experiences illustrated different facets of the state's journey.
The biggest challenge? Finding enough material to fill a 3,000-word chapter. Although I located sufficient information on healthcare providers, material on Arizona women in science was sadly lacking.
The book, first published in 2002, did well enough that Globe Pequot asked me to add two more women for a second edition in honor of the state's 2012 centennial.
Ten years later, in 2022, the publisher requested a third edition, and the addition of three more women. By then I'd written The Forgotten Botanist: Sara Plummer Lemmon's Life of Science and Art.
At last Remarkable Arizona Women includes a remarkable woman scientist!
Contact info:
---
NASW members: will your book be published soon? Take advantage of this opportunity for shameless self-promotion. Submit your report for Advance Copy.
Tell your fellow NASW members how you came up with the idea for your book, developed a proposal, found an agent and publisher, funded and conducted research, and put the book together. Include what you wish you had known before you began working on your book, or had done differently.
See https://www.nasw.org/advance-copy-submission-guidelines.
Review Advance Copy archives at https://www.nasw.org/member-article/advance-copy.
Thinking of writing a book? If you are a NASW member, you may access a list of more than 150 books and online resources to help you create your book proposal, find an agent and funding sources, negotiate your contract, learn about self-publishing, publicize and market your book, and more at https://www.nasw.org/article/write-book.
Watch for announcements of NASW Books Committee Advance Copy virtual events on the NASW events calendar. View recordings of past events in NASW's Video Archives.
Send book info and questions about book publishing to Lynne Lamberg, NASW book editor, llamberg@nasw.org.
Follow @LynneLamberg on Twitter for news about science/medical books and writing.
Banner image adapted from original photo by Wynne Brown. NASW members: share photos of your office bookshelves for use on other pages of the NASW website. Upload photos to bit.ly/naswpicsubmit.